The Most Underrated And Overrated Breakup Songs

Of all the different types of songs, none is more essential than the Breakup Song. Sure, love songs are nice and dance songs are fun, but when you're feeling blue, a good breakup song is nearly a panacea. Knowing someone else has felt that low and hearing it perfectly articulated can pry the Jack Daniels from your hands for a minute and allow you to once again think that life is worth living.
Artists produce breakup songs with a prolificacy only outdone by love songs. With so many to choose from, and so many situations in which to listen to them, selecting the best breakup song is impossible. It is very easy; however, to recognize whether a song receives too much or too little credit. The following is a list of the most underrated and overrated breakup songs of all time.
Overrated:
5. "The Flame" by Cheap Trick
"The Flame" is as trite as a breakup song can get. It relies on every line item from the breakup book of clichés: never getting over the girl, still feeling her next to him, and always being there for her. Boo-hoo. Plus, it uses incredibly hyperbolic imagery. "I've been hit by lightning", "Can't stand up for falling apart", these are lines usually seen written in pink pen in a 12-year-olds' diary. Combine all that with a whiny vocal and overwrought musical track, and you have one of the most treakly and annoying breakup ballads ever produced. Despite this, it's become a staple of classic rock radio and one of the most-spinned breakup songs of the era.
4. "Love Hurts" by Nazareth
For a song considered the quintessential hard rock break-up song, there really isn't much to get excited about. Making the revolutionary claim that love isn't all it's cracked up to be and repeating it ad nauseum is pretty much all there is to this power ballad. The worst thing about it is that it's such a cheesy and hackneyed representation of breakups that it's hardly even associated with them anymore. Seriously, who hasn't heard this song on the radio and immediately associated it with sports or a Gatorade commercial?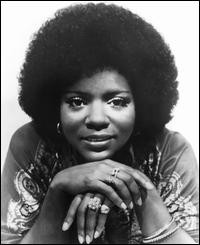 3. "I Will Survive" - Gloria Gaynor
The movin' on divorce anthem of the seventies was a sort of rallying cry of feminism for the disco era. The song is purported to be some sort of inspirational anthem for women of the era looking to escape a boring marriage. Whatever. This is nothing more than a lame roller rink standard that always fills the floor with drunken dancers at weddings. It's nothing more than that. It's not even one of the better disco songs, yet it has the reputation as the definitive breakup anthem of the seventies. The only place this tune actually has in any dumpee's oeuvre is in a lame romantic comedy involving hairbrush lip-synching and obscene amounts of ice cream.
2. "How Do I Live?" by Trisha Yearwood or LeAnn Rimes
This is a song that won Oscars, Grammys, and probably dozens of other awards nobody's ever heard of. Why? Hasn't anybody noticed how boring it is? With a very mundane musical track and sleepy vocals to match, how did this become so acclaimed? As a breakup song it's even worse. The lyrics offer no new insight into the emotions of somebody dealing with a breakup, preferring to simply run down the laundry list of clichés saying it's hard to get through the night without you, and how you've taken away everything good in my life. This might have seemed fresh were it written in the early 60s, but the fact this came out in the late 90s makes it about as original as a Hardy Boys book.
1. "You Oughta Know" by Alanis Morissette
The angry feminist anthem of the nineties enjoyed more plays than an Al Saunders offense during that decade. It became nearly ubiquitous and the quintessential, "I'm pissed at my ex" song. But is it really that angry? Isn't it a little too angry? So angry that it seems fake, like a manager trying to get thrown out of a baseball game. Contrast it with the ultimate angry break-up song, "You're So Vain", and it seems like a whiny child compared with
Charles Bronson
in "
Death Wish
".
Carly Simon's
song is an ice-cold and thorough evisceration of its celebrity target, while Morissette comes off as a sorority girl who just keyed her Delta Chi ex-boyfriend's car. Plus the song is about Uncle Joey. Now that's overrated.
Underrated:
5. "Who's Gonna Ride Your Wild Horses?" by U2
A deep track off of "
Achtung Baby
" that cuts even deeper. With a sweeping scope, Bono musically poses the question that pains any victim of a breakup, "Who's next?" Additionally, the lyrics paint a picture of a nearly ideal woman capable of sexy svengali and how that affected the singer during their relationship. This song is both a lover's lament, a confession of fear, and a sense of relief. It's not one of U2's better-known songs, but it is one of their best and certainly deserves to be a post-breakup standard.
4. "Even the Losers" by Tom Petty and the Heartbreakers
Petty is almost the patron saint of breakup songs. He's penned such classics for the dumped as "Free Fallin'", "Don't Come Around Here No More", "Breakdown", "Free Girl", and several others. "Even the Losers" remains one his least-acclaimed laments, but it may be his best. It takes the classic; "You don't know what you're giving up" approach while never getting away from the fact the singer misses what he had. Petty details a few lovely moments in a relationship before triumphantly proclaiming "It couldn't've been that easy to forget about me," several times. You wonder if the narrator really thinks that or is trying to tell himself that since he can't get over his ex. This song perfectly captures the feelings of somebody trying to move on, but failing in their first method.
3. "Bell Bottom Blues" by Derek & the Dominos
Eric Clapton's
best-known work from his time as a member of Derek and the Dominoes is undoubtedly the epic of unrequited love, "Layla". This song is probably his most painful from that tenure. Unlike the narrator in Petty's track, Clapton's has no designs on moving on. Instead, this track is a plea for reconsideration, for the lover's return. Set against a soaring blues track, Clapton asks, "Do you want to see me crawl across the floor to you?" and makes the startling confession, "If I could choose a place to die, it would be in your arms." This is the ultimate breakup song for somebody who doesn't want the relationship to end, and the one of the more cutting lyrically. It's never considered one of the top entries in the Clapton catalog, but it certainly deserves high acclaim.

2. "Reelin' in the Years" by Steely Dan
Cheerful vocals and a major-key riff belie the heartbreaking lyrics of this tune. A very mature breakup song, the singer details the good times in his relationship before noting his inability to comprehend how his former lover could throw that all away. Like all of Steely Dan's songs, "Reelin'" is incredibly complex, featuring densely literate lyrics and groovy jazz-rock music with transcendent solos. It's all done with a cynical half-smile, but it's hard not to feel the pain of the singer. This song may be sophisticated and classy but is has all the fury of the best angry breakup songs. Many people don't even know this is a breakup song because of its good-time seventies groove, but they just aren't paying attention. This deserves a spot in the pantheon of songs for the dumped, even if most people don't know what it's about.
1. "Already Gone" by The Eagles
Not all breakups are bad for both parties, and not all breakup songs have to be sad. "Already Gone" clocks in at number one because it's so perfectly the anti-breakup song. It revels in the fact that the relationship has ended, relishing the singer's newfound freedom. Because of this, it isn't often considered a break-up song, but just like how some of the best love songs are sad, this is a joyous song for those breaking the chains of the awful relationship. With lyrics like, "So often times it happens/That we live our lives in chains/And we never even know we have the key," it is the perfect song to play after you've finally built up the courage to dump your loser boy/girlfriend. Sometimes a breakup makes us want to jump in exultation, and this is the perfect soundtrack to that moment. The good breakup is one of the most underrated things on the planet, and that's the reason its musical companion is the most underrated breakup song.
Check back next week for the most overrated and underrated "
Saturday Night Live
" hosts.
Story by
Andrew Payne
Starpulse contributing writer