The Most Talked About Characters On 'True Blood' This Season Are...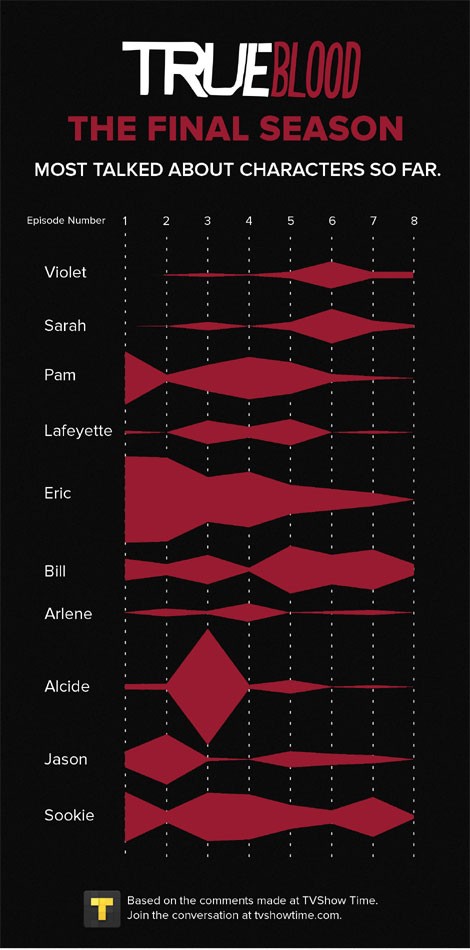 "True Blood" is nearing the end of its seventh and final season, and our favorite characters from Bon Temps are going through a lot of changes.
Several characters have died, including Sookie's best friend Tara and her boyfriend Alicide.
Almost immediately after the werewolf's death, Sookie gets back in the saddle with vampire Bill, who is losing his battle with Hep V, which he caught from his on-again lover. But there's hope - Sarah, a.k.a Newme, is the antidote.
Arlene, who was never a fang banger, hooks up (kind of) with a vampire after being held captive by a group of Hep V-positive vampires.
Andy and Holly search desperately for their children-turned-lovers, who Violet is holding against their will.
Jason reconnects with his old pal Hoyt, whom he betrayed and Jessica glamored so he would forget everything.
And so on...
So who are "True Blood" fans talking about the most?
According to TvShowTime.com, the start of the season focused on Eric, who, like Bill, is dying from the Hep V virus. The focus then shifted to Alcide, whose death shocked viewers.
The conversation has been steady about Sookie, a woman who's tired of losing the ones she loves but vows to save her first love from true death.
Meanwhile, interest in Lafayette has waned as he and Tara's mom try to find out if she is really trying to speak to them from the great beyond.
Tune in to the final episodes of "True Blood" on Sunday nights on HBO.