The Most Memorable Meals We've Seen At The Movies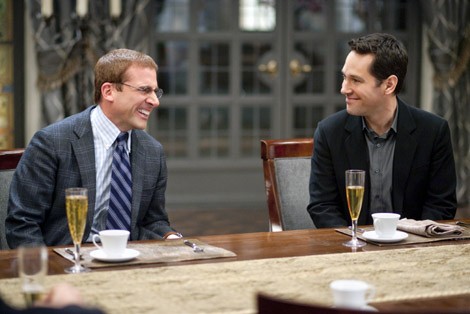 Anytime you've got Steve Carell and Paul Rudd sitting around a table breaking bread, it's going to be a unique and hilarious dining experience. At least that's what audiences will be counting on when they sit down to watch the comedy "Dinner for Schmucks." The film, which opens Friday, July 30, stars Rudd as an executive, who brings Carell's character to his boss's monthly dinner party for idiots.
This got us thinking about some of the most memorable meals we've seen at the movies. Take a look, and let us know which of your favorites weren't on the menu!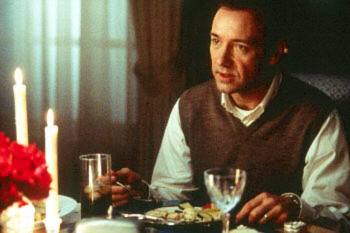 "American Beauty" - Pass the asparagus! Annette Bening and Kevin Spacey turn vegetables and Lawrence Welk music into weapons of domestic destruction during a tense and unforgettable family dinner.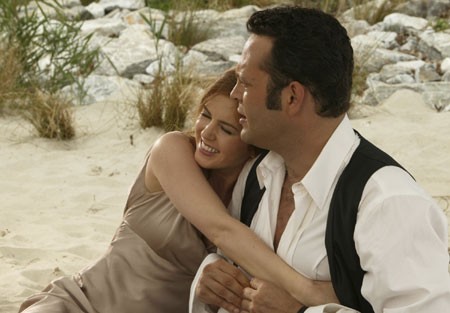 "Wedding Crashers" - Vince Vaughn wasn't the only one who was caught off guard when a "virginal" Isla Fisher started to get amorous with him under the dinner table. Audiences instantly embraced the hilarious redhead… and her real-life love, Sasha Baron Cohen.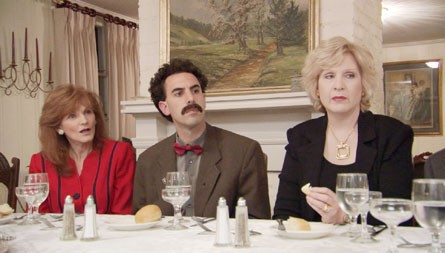 "Borat" - Speaking of Sacha Baron Cohen, his Kazakhstani alter ego turned Southern hospitality on its ears by bringing a prostitute and a bag of feces to dinner.
"The Nutty Professor" - In both the original movie and its sequel, several super-sized Eddie Murphy's around the dinner table resulted in big belly laughs.  
"My Best Friend's Wedding" - An impromptu sing-along is always a good way to ensure a memorable dining experience. When it involves Rupert Everett leading Cameron Diaz and her country club family in a spirited performance of "I Say a Little Prayer, " it's absolutely delicious.
"Beetlejuice" - Only Tim Burton could conjure up a ghost story that features haunted dinner parties with shrimp cocktails that attack guests while they sing "Day-O."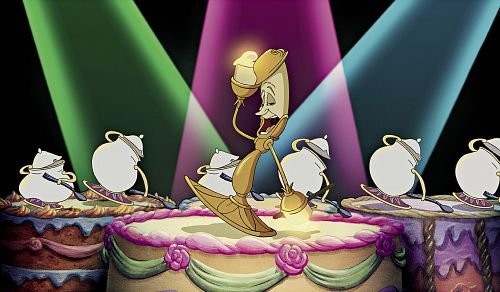 "Beauty and the Beast" - For Belle's first night in the Beast's castle, Lumiere says "Be Our Guest" and a kitchen full of enchanted objects serves up a magical dinner and culinary cabaret act. The singing and dancing was a treat, and the animated French foods made our mouth water. Honorable animated mentions:  "Ratatouille," "Lady & the Tramp," and "The Little Mermaid" – Ariel brushes her hair with a fork at the dinner table. Nuff said.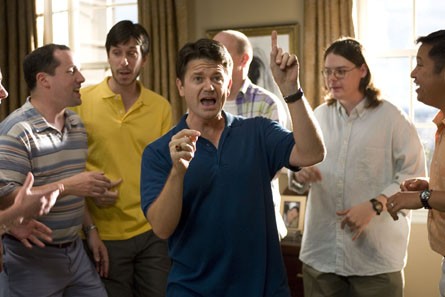 "The Break-Up" - An otherwise forgettable film scored big points when John Michael Higgins (as Jennifer Aniston's brother) started to conduct an acapella symphony at the dinner table. Vince Vaughn's refusal to "come, come with the kick drum" gave the comedic rhythm another solid beat.
 "Guess Who's Coming to Dinner" – A list of classic dinner scenes wouldn't be complete without this 1967 comedy about an interracial couple's efforts to bring their families together for a meal.
"Meet the Parents" / "The Birdcage" – These cinematic engagements further demonstrated how crazy a simple meal can get when you bring someone new home to meet mom and dad. Thankfully, we learned that in situations like these, topics like milking cats and abortion should be strictly off-limits .