The Morning Roundup: Playmate Of The Year, 'Family Tree' & Chris Brown Adds Graffiti To His Ugly House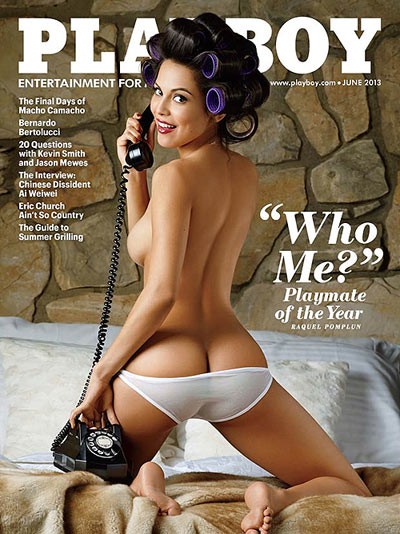 What's going on in the entertainment world today? Check out some of the big stories you may have missed over the weekend... Kim Kardashian Avoids Reading Negative Comments About Her Maternity Fashion
Kardashian is eight months pregnant with her first child with Kanye West. Bloggers have been continually calling her out for wearing tight-fitting and skimpy outfits during her pregnancy.

Amanda Bynes Given Three Years Probation For Driving With Suspended License
The actress's license was suspended following two hit-and-run incidents, which were both dismissed, but unfortunately for Amanda she's still paying the price for getting caught driving during that time.

'Family Tree' Preview: Christopher Guest Takes His Comedy Formula To HBO
A TV series from the creator of "Best in Show," "Waiting For Guffman" and "A Mighty Wind"? Count us in on this one!

Miley Cyrus Inexplicably Tops 2013 Maxim Hot 100 List - How It Happened
Miley Cyrus beat out the likes of Selena Gomez, Jessica Alba and Ashley Benson to land the top spot on Maxim's annual Hot 100 list. Maxim says she dominated on their online voting and never fell from the top spot once she reached it, a week after voting started. We smell something fishy though, especially since last year's #1, Bar Refaeli, didn't even make it onto this year's list.

Prosecutors Give Official Approval For Lindsay Lohan's Rehab Choice
Prosecutors have approved the Betty Ford Clinic as an acceptable place for Lindsay Lohan to carry out her 90-day rehab sentence. Will it change her? Probably not.

'24' To Be Resurrected, Kiefer Sutherland Considers Reprising His Role
Kiefer Sutherland may return to TV as Jack Bauer for a limited 12-episode run of "24." He's currently out of work after Fox canceled his new show "Touch" last week, and is in talks of reprising his role.

Joss Whedon's 'Agents Of S.H.I.E.L.D.' Picked Up For ABC TV Series
Well, it can't be as bad as "Dollhouse," but will people want to watch a Marvel Comics-based TV series that doesn't have any superheroes in it?

Kate Upton Lands First U.S. Vogue Cover, Loves Her Boobs & Plans A Lingerie Line
Let's face it, everybody loves Kate Upton's boobs.

NBC Cancels 'The New Normal' And 'Smash' From Lineup
Frankly, we didn't know either of these were still on. Network bosses are currently choosing which series to continue and which ones to axe. Despite the move, the network still remains in the cellar in ratings. Can NBC finally turn it around?

Neighbors Disgruntled By Monster-Themed Graffiti On Chris Brown's Home
Chris Brown's neighbors aren't pleased with the hip hop star's recent decision to decorate the outside of his home in Los Angeles with graffiti. The surrounding residents claim the monster-themed paintings scare the local children. Interestingly the locals are scared of the paintings and not of Brown himself. Not to mention that they actually make his ugly, concrete home look much better (see pics here).

Raquel Pomplun Named Playboy's First Mexican-American Playmate Of The Year
The Latina beauty hails from Chula Vista, California, and will receive a big check for $100K and a whopping one-year lease on a new 2014 Jaguar. She also gets to bang Hugh Hefner whenever he wants.