The Morning Roundup: Paris Jackson's Suicide Attempt, Bobbi Kristina Brown's Nasty Note, CMT Awards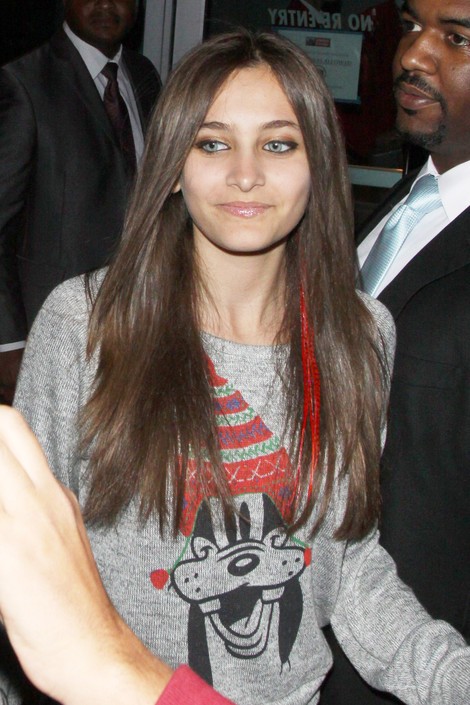 Paris Jackson attempted to commit suicide early Wednesday morning after cutting her wrist with a meat cleaver and taking a bunch of pills. One of the reasons was because she wasn't allowed to go to a Marilyn Manson concert. According to TMZ.com she received numerous stitches for the cut and police say she didn't really want to die. (story)

Carrie Underwood was a big winner and looked gorgeous as usual at this year's CMT Music Awards. Taylor Swift paid tribute to the Oklahoma tornado victims, singing "See You Again" with the help of a church choir. See who won & check out pics from the red, er, purprle carpet. (story)

Late singer Whitney Houston's daugher Bobbi Kristina Brown was reportedly kicked out of her Georgia Apartment for being too loud. Brown's downstairs neighbors filed numerous noise complaints against her and boyfriend Nick Gordon (who's her kind-of adopted brother). Upon leaving, Bobbi left a nasty note to the couple showing her true colors and a very diva attitude. (story)

Miley Cyrus has a new single out, called "We Can't Stop," and the song appears to allude to drug use, specifically cocaine. The singer's rep denied that it includes a line about taking ecstasy -- which we can understand -- but the reference to coke is pretty obvs. She says the song is good for radio right now, presumably because we need another autotuned song about partying. We heard will.i.am produced one of her new songs and figured it had to be this one based on they deep, deep lyrical content, but it was actually Mike WiLL Made-It who produced. (story & listen)

Singer Miguel was reportedly ordered not to attempt his disastrous stage jump at the Billboard Music Awards. His rep has spoken out in his defense, saying, that reports saying he was warned not to attempt the move are "completely false." The singer ended up landing on a woman's head, causing possible brain damage. (story)

Blake Shelton lashed out at a critic for a d*ck move over The Voice contestant Holly Tucker being cut this week. The critic said nobody cares about her anyway, and Shelton was pissed, tweeting, "I swear to God I can't understand the mentality of a grown man ripping on young kids over and over again for just trying their hardest. Kids!" (story)

Tori Spelling & Dean McDermott are being sued for $60 million for allegedly stealing the idea for their wedding show, "sTORIbook Weddings." In related news, someone else is actually publicly claiming the idea idea. (story)
Lindsey Vonn, current mistr-- er, girlfriend of Tiger Woods, had to take a drug test right in the middle of Monday night's CFDA Awards ceremony in New York. The Olympic skier literally had to stop what she was doing and lock herself in the bathroom with an Olympic official and pee in a cup. She reportedly passed. (story)
The CEO of AEG live has called Katherine Jackson's $40 billion -- yes billion -- wrongful death lawsuit against the concert promoter "extortion." AEG Live claims that Michael Jackson picked Dr. Conrad Murray as his personal physician for his "This Is It" London Residency concerts and they weren't obligated to run a background check on him, as the plaintiff claims. (story)

She's pregnant, she's engaged and she just bought a new home. Things are going well for Jennifer Love Hewitt, who just purchased a modest $3.25 million home in the Pacific Palisades neighborhood of Los Angeles. Like most homes, it's made of "steel, concrete, glass and wood." (story)

Pamela Anderson starred in a sexy new commercial for a web hosting company that was banned in England for being sexist and degrading to women, despite the star playing the CEO of a company during a business meeting. Come on, doesn't the British watchdog agency that banned the ad know that cleavage gets people to build websites. Just ask Go Daddy. (story) Gratuitous shout-out: if you do need hosting and don't want cleavage, check out our sister site Atlas Hosting. You get a live person and no phone prompts or website FAQs to go through first if you have questions or need help.

Kim Kardashian's 72-day marriage to Kris Humphries has finally ended. 581 days after filing for divorce. (story)

Sorry kids, no Amanda Bynes updates today...