The Morning Roundup: 'Bea Arthur Naked' Painting Sells For $2 Million, Kanye West Goes A Little Crazy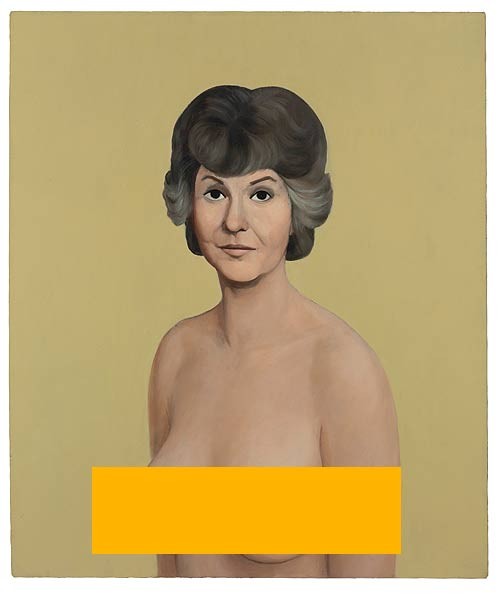 A topless portrait of "Golden Girls" star Bea Arthur (above) sold for nearly $2 million at New York auction house Christie's on Wednesday night. The painting was done by artist John Currin in 1991. The Brooklyn, NY, based artist caused cries of misogyny and sexism from many critics when the painting made its debut. A spokesman for Christie's called the work "historically significant," but despite the high praise, the new owner has chosen to stay anonymous. See the uncensored version on the next page.

(story)

Kayne West debuted some new music during Adult Swim's upfront Wednesday night... and then went on to rant about the paparazzi. He claims hes "not a celebrity," "only makes real music," and "ain't doing no 'SNL' (Saturday Night Live) skits." (story)

"Harry Potter" star Emma Watson is all grown up and did a classy new shoot for W Magazine. Emma says that she's never looked forward to blossoming into a woman and enjoyed being a kid. "I Wanted To Wear A Sports Bra Until I Was 22," she says of her youth. While her shoot is very mature, her new role in "The Bling Ring" isn't, and she explained that her character in the film is pretty trashy and basically a slob who wears Ugg boots and "low-slung tracksuit bottoms" to show off her "tramp stamp." Emma sarcastically calls the look "really classy!"

(story)

Angelina Jolie's cancer-prevention surgery isn't over yet, after undergoing a double mastectomy and breast reconstruction surgery back in February, the star is getting ready for the next phase -- having her ovaries removed. Her choices will bring her risk of getting cancer down dramatically. She's already gone from an 87% chance of developing breast cancer down to 5%, but she's still at a 50% risk of getting ovarian cancer, the same thing that took her mother at 56.

(story)

Zoe Saldana has been in the news lately for a sizzling photoshoot she did for the June issue of Allure magazine, in which she appears topless and fully nude in a pair of images. But it's the cover headline that has everybody up in arms. (story)

Choreographyer Wade Robson opened up about his accusation that Michael Jackson molested him for seven years. The dancer told "Today Show" host Matt Lauer that his memories were repressed when he took the witness stand in Jackson's 2005 trial. At the time, Robson had defended the King of Pop against allegations of child molestation; but now he says that he didn't realize what was happening to him at the time because Jackson had manipulated and brainwashed him into thinking their sexual relationship was love and that if he ever let anyone know about it the two would both go to jail. (story)

The 2013 Cannes Film Festival is in full swing now and the stars were out. See photos of Emma Watson, Nicole Kidman and more. (story)

Christina Aguilera has dropped some serious weight and showed off her sexy body in a bra and tight skirt on the set of a new music video via her twitter page. The singer is ready to return to "The Voice" this fall after signing a new deal for $12.5 million. (story)

Music Moguls Dr. Dre and Jimmy Iovine have donated a whopping $70 million to fund a new program at the University of Southern California. The program will help students looking to break into the music business get the proper education. The program will accept only 25 students a year.

(story)

Kellie Pickler, Kendra Wilkinson and hottest woman in the world Miley Cyrus were all on hand for the 2013 Maxim Hot 100 party Wednesday night. Miley was even wearing her engagement ring -- but still no sign of fiance Liam Hemsworth. Maxim's 2013 Hot 100 Party Pics: Miley Cyrus, Kellie Pickler & More! (story)

"Teen Mom" Farrah Abraham was spotted last weekend buying a pregnancy test. The attention grab came just days after her sex tape was released, and now she wants the world to think she conceived on camera and is having a porn star's baby. The move angered her leading man, adult film star James Deen, who's pretty sure that what they did on camera couldn't possibly result in pregnancy.

(story)

See the uncensored version of "Bea Arthur Naked" by John Currin on the next page. Warning: it's art, but it's NSFW.