The Midway State's 'Met A Man On Top Of The Hill' EP Out Now; New Disc Due In April

Meet
The Midway State
, a young quartet who takes you on a storied journey in just four songs.
Met a Man on Top of the Hill
, the band's four-song EP, delivers forceful melodies, inspiring lyrics and catchy hooks.
Lead singer and pianist, Nathan Ferraro, showcases the fluidity of his voice as he shifts his tone from light and delicate to powerful and intense. With over 500 songs in his pocket by age 21, Ferraro has proven to be a lyricist wise beyond his years. The piano-driven tracks are complemented by Michael Wise on guitar, Mike Kirsh on bass and Daenen Bramberger on drums.
The Midway State has opened for notable acts including
Lifehouse
,
Mika
, and
Rocco Deluca
and are currently sharing the bill with
Daughtry
. The full-length follow up to
Met a Man on Top of the Hill
is due in stores April 2008.
The Midway State comes at you from out of nowhere. The band's nakedly emotional, piano-driven songs bear no clear connection to any current sound or scene. Even within the confines of a four-song EP, you don't know where the emotional undertow is going to pull you next, just that eventually, the combination of youthful drama and mature melodies of these songs will tug you under.
Perhaps it helps that, geographically speaking, The Midway State pretty much is from out of nowhere. "It's a little ski town two hours north of Toronto," singer and songwriter Nathan Ferraro says of his hometown, Collingwood, where the 21 year-old oldest of eight children still splits his time between the family house and Toronto. "We live out in the country, so I had a lot of time to play around at home. We were never involved in a scene or anything from one of the cities, so I never knew what was cool or what was going on."
"From a very early age," Nathan took piano lessons, which he hated, so he switched to guitar and then back to the piano at 16. And while keeping up with schoolwork and playing sports like other kids, he found time to write songs. A lot of them.
"All through high school, I felt like 'you've got to write a song,' just to get that feeling like I'd done something good for the day. So I used to come home from high school and write a song every day." Nathan has tapes and tapes and tapes and tapes of songs. He's probably written 500 since he was 14.
These songs are what ultimately distinguish the Midway State. "Met a Man on Top the Hill" is like pages torn from a fairy tale, with lyrics that switch perspective between a powerful figure and his object of manipulation, pushed along by Nathan's tumbling phrasings.
"It could be anything," Nathan explains of the manipulating force in the song, "like the Devil, or someone just pushing stuff on you. I really want to write on a human level that everyone can relate to and just be honest."
"Change for You" and "Nobody Understands" tread in more romantic territory, but similarly unfold in ways that are both familiar and unexpected; "A Million Fireflies" with its chunky guitar, has emerged as a crowd favorite.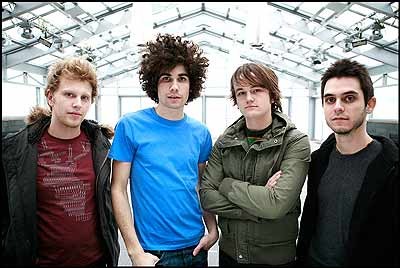 Reaching the audience is a skill Nathan and drummer Daenen Bramberger, who's been in the band since its schoolboy origins, learned early on. "When we were 16 or 17, my dad bought us a van and we toured across Canada for the summer," Nathan says. "We played everywhere, from Cape Breton to all the way to Vancouver, just booking our own gigs. We would play in living rooms, in bars. We played with hardcore bands, emo-bands—we were always first of five bands at the all-ages show.
"When I look back at it now, I'm like, 'wait, when I was 16, I didn't get a job, I spent the summer driving around Canada playing at weird little places?'" he laughs.
A short time later the band moved out of their parents homes and re-located a couple of hours south to Toronto. There they were able to find the other half of the band; best friends Michael Wise and Michael Kirsh, by putting an ad up within the university of Toronto jazz program.
Now, The Midway State is poised to reach many more people than Nathan and Daenen could have imagined when they first started playing those songs pounded out after school on the family piano.
Listen:
Change For You
Met A Man on Top of the Hill
(Streaming audio and/or video links may expire without notice)