'The Middle' Recap: 'Errand Boy'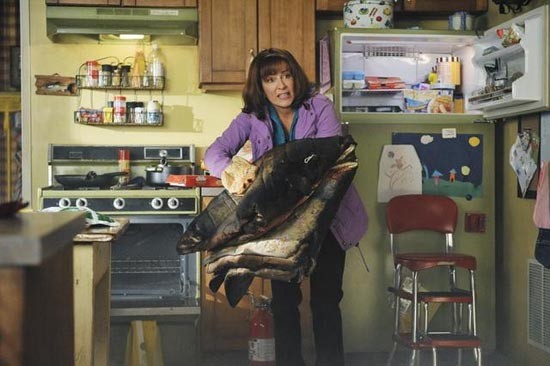 This week on "The Middle," Brick's arguing his case to staying home alone, even though Frankie thinks he's too scatter-brained to be granted the privilege.  
"You know how distracted he gets," she tells Mike in bed.  "That reminds me, he ate another Band-Aid this morning."
"One of ours or one he found?" Mike asks.
Brick wants to stay home because he dreads being Frankie's "errand boy," which involves being dragged around from one menial task to another, like choosing which shade of blue fabric Frankie should buy, or hooking her bra in the dressing room.
Mike's got his own problem to deal with, as he discovers Sue's catty friend, Shannon (who "texts really fast!"), is a disingenuous friend.  Such is middle school, as Frankie reminds him.
"This is why we eat so much chocolate," she tells Mike, commenting on how brutal young women can be to each other.  
Meanwhile, in a possible nod to Movember, Axl's hopping on the rest of the football team's beard-growing bandwagon, even though he's not quite "hairing up" as quickly as he'd like.  Poor kid's been growing in nothing but a few isolated tuffs, even though he tells the family: "For your FYI, according to beardguru.com, I'm showing advanced hair-growing for my age." 
Frankie finally caves and allows Brick to stay home alone (reminding him, "No baths, no knives, no going in the attic"), but she returns to smoke billowing out of the oven.
"The oven is for bulky storage!" she shrieks, as she frantically removes her aunt's burning quilts from the smoking unit.  Brick asserts that he only wanted to make some pizza rolls.
"Nobody in this house uses the oven!" Frankie gasps.  "Pizza rolls are what the microwave is for!"
Later, after Mike overheard Shannon -- whom he refers to as a "Bond villain" -- tell Sue's friend that Sue isn't invited to Shannon's big slumber party, he begins giving the fake friend the third degree when she's over at the Heck house studying with Sue.
Shannon tells the girls that she's "not berrr-agging or anything," but she maintains high grades while being really involved at school.  Mike tells her that's the definition of bragging, and that she ought to open a dictionary.  When the girls retreat to Sue's room, Mike starts wolfing down a nearby Hershey's bar.
And when Shannon phones Sue, asking if she can borrow Sue's sleeping bag for a "last-minute family camping trip," Mike marches over there himself to stick up for his clueless daughter.  After a satisfying stand-off with Shannon's obsequious dad, Mike returns home to spend some quality time with his daughter, who's blissfully unaware of the situation.  Delighted to have a movie night with her pop, she excitedly explains to Mike the premise of "Eclipse."
Finally, still fuming over the oven quilt incident, Frankie once again makes Brick her errand boy -- but as they're fighting in the car wash, they forget the windows are left down, and are subsequently hosed down with jets of suds.  They laugh hysterically, leading to a soapy reconciliation.  In Frankie's own heart-warming moment, she tells Brick that she's afraid of letting go of her littlest child.  They agree Brick can stay home alone after he learns to tie his shoes (which Frankie tells us takes months on end).
As for Axl ("My cheek patches are finally filling in; now all I need is the connector area"), he gets PO'd when he discovers his friends have grown full beards.  Panicking, he asks Frankie to go along with the ruse of Frankie forbidding her son from growing facial hair.
She agrees, but under one condition.  In the last scene, Axl's standing disillusioned in the fabric store, his mom's purse slung over his shoulder, Frankie taking her time selecting the proper shade of blue.