'The Middle' Recap: Episode 5, 'Foreign Exchange'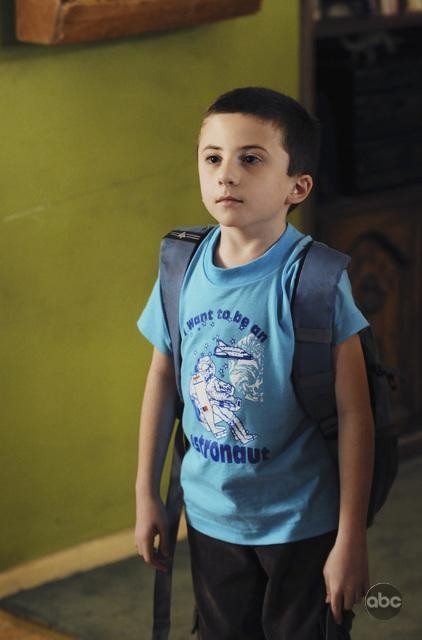 "We'd love to, but we're so busy with... recycling, and everything," Frankie explains to a friend at church, who encourages Frankie to participate in a foreign exchange program, in which the Hecks would host a student from Japan.
But with Axl and Sue going at each other like coked-out hyenas, Frankie eventually thinks that the program would teach her children the importance of tolerance and cooperation.
"Is there a catalogue we can look at?" Axl asks, hoping the student is a hot blonde from Scandinavia. 
Frankie tells the family they're going to be ambassadors, and that the Japanese student might return home with such great stories of the experience, that "pretty soon, America's popular again!"  Whether it was improving the States' global image or her family's limping dynamic, a now determined Frankie shows up at the airport with the family, waving American and Japanese flags and a poster board exclaiming, "Welcome Takayuki!"
Turns out, the dour-faced Takayuki has the personality of a rock, and remains nonplussed even when an excited Sue greets him: "You probably noticed my sweatshirt -- I'm on cross country.  I'm what you call a 'jock.'"
And so, the gang heads home to kick off immersion in American culture -- a fast food dinner, on the couch, in front of the glow of "The Bachelor."
In Takayuki's first few days, the Hecks try to engage him by singing home karaoke (Sue flails about to "Don't Go Breaking My Heart") and talking about Japan (Brick, the young, culturally sensitive savant, would "love a Japanese person's insight" on anime and manga).  Takayuki, however, remains disinterested and monosyllabic.  
Mike tells Frankie: "We got a dud."
Frankie initially disagrees, but after she talks to that friend from church -- who tells of her own exchange student, a lively Spanish boy who's been cooking Barcelonan cuisine and teaching them Flamenco guitar -- Frankie tells her family in private, flatly: "We got a dud."
But later, Frankie decides they're the duds.  They haven't been immersing Takayuki in American culture by taking him places, like Brown County park, which is where they decide to take him.  As luck had it, the car broke down, and tensions reached an all-time high, especially when Axl uses his phone to snap a photo of Sue peeing in a ditch.  "It's just her head, but when I explain it on Facebook, everyone's gonna get it."
It's in the middle of this crisis that Takayuki finally -- begrudgingly -- opens up.
"I can fix car."
And "fix car" he did.  Takayuki likes to fix stuff.  He fixed the Hecks' toaster and TV: "Turns out we did have picture-in-picture," Frankie says.
Finally, back home in Japan, Takayuki's taken a page out of the Hecks' book.  He's watching TV in his underwear, a la Axl, with his family.  He's also whispering -- whispering.
Addendum: Can I just say how great this cast is?  The writing's gotten tighter since last season, too.  Definitely a solid show for ABC's 8 o'clock spot on Wednesdays.