The Members Of Blondie Pay Tribute To Lou Reed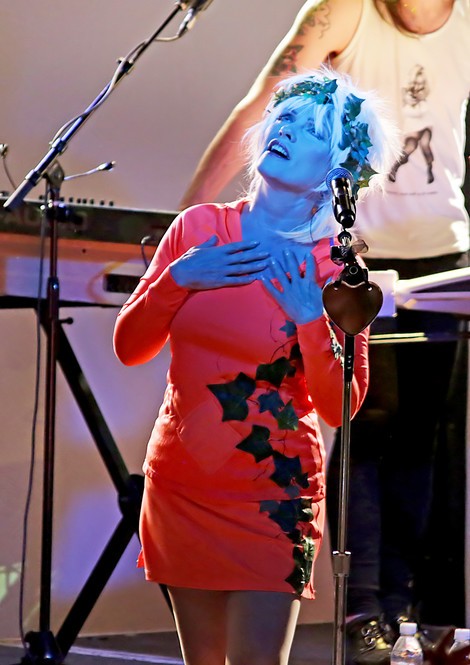 Blondie members Debbie Harry and Chris Stein have paid tribute to the late Lou Reed, who died on Sunday at the age of 71. The punk legends have recalled thrilling moments with the former Velvet Underground frontman in statements released on Monday.

Harry remembers, "The first time I saw the Velvet Underground with Lou Reed it was in the 1960s at a place on the Lower East Side (of New York) called The Balloon Farm. That day I became a lifelong devotee of the iconoclastic sound and style of Lou and the Velvets.

"I'm so sad that he's gone but his hypnotic voice telling a story of a Perfect Day, or the devil let loose in White Light/White Heat will live forever."

Chris Stein adds, "I had many encounters with Lou over the years and he was always charming and polite. "I just never ran into his infamous dark side... ¨Lou was one of a handful of originals. I don't think that the conditions that created him will again even be approximated, "let alone duplicated."

And Stein recalls a really amazing night when his band was asked to open for the Velvet Underground: "When I was 17 years old in 1967, my friends and I were fascinated by the Velvets' first amazing album. A close friend of mine worked for (Andy) Warhol. One night he arrived at my house in Brooklyn and told my friends and I that the band who was supposed to open for the Velvets in NYC had cancelled and would we like to replace them."

"We got on the subway with our guitars and went to a venue on the Upper West Side, called the Gymnasium. ¨Maureen Tucker let us use her drums; turn them right side up even and we used the Velvets' ' We played our little blues rock set and at the end someone came over and said, 'Oh, Andy thought you were terrific'.

"There were maybe 30 people there. The Velvets came on and were just powerful. They used the echo-y acoustics of the place to their advantage. This was a moment that shaped my musical life and I tell the story frequently."

Other tributes have poured in since the news of Reed's death broke, including notes, statements and tweets from the likes of his friend and VU bandmate John Cale, The Who, the Pixies, Patrick Carney, Morrissey, Ryan Adams, Nikki Sixx, Steven Tyler and Cyndi Lauper, among others.

David Byrne offered up his thoughts on Monday in a statement that reads: "No surprise I was a big fan, and his music, with and without the Velvets, was a big influence on myself and Talking Heads. He came to see us at CBGB (in New York) numerous times, and I remember three of us going to visit him at his Upper East Side apartment after one of our very early gigs there.

"I kept in touch with Lou over the years. We'd run into one another at concerts or at various NY cultural events and benefits... More recently I'd see Lou and (wife) Laurie (Anderson) socially - we'd join mutual friends for dinner sometimes and at concerts. He and Laurie never stopped checking out emerging artists, bands and all sorts of performances.

"His work and that of the Velvets was a big reason I moved to NY and I don't think I'm alone there. We wanted to be in a city that nurtured and fed that kind of talent."