The Man His Music: Kyle Puccia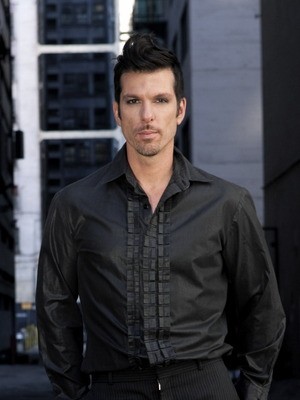 You've heard his music on ABC and the Oxygen Network.  He's the vocal coach to Lisa Loeb, Carly Foulke (The T-Mobile Girl) and Lana Parrilla (The Evil Queen on ABC's "Once Upon A Time") and has music directed Katherine McPhee and Tony nominated Laura Bell Bundy ("Legally Blonde" The Musical) to name a few.  Who can forget his parody of Rebecca Black's "Friday" song?
I spoke with top Billboard charter, Kyle Puccia about his music which provided insight into this musical genius beautiful mind.
What inspires you to write these beautiful sad songs?
I've never been one to sit around and wait for inspiration.  Oftentimes, the sad subject matter of a song is about something that my writing partner is going through or it is inspired by an idea or phrase.  However, more than a handful of my songs were actually written in a moment when I was feeling something deeply.  I like those songs the most.
How did you start writing songs for television and film?
My first and biggest placement to date on ABC Family's "Pretty Little Liars" is a mystery.  Somehow, the music supervisor for the show heard the song and contacted me for permission to use it.  Other placements such as the songs I've written and produced for Oxygen's "Tori & Dean, Home Sweet Hollywood" were secured through relationships I have within the artist community here in LA.   I've lived and worked in LA for over a decade and I meet amazing artists every day.  I believe what goes around comes around and I am a sucker for helping other artists to get focused on their passion and to go after their dreams.  I do it every day as a vocal coach and a music producer.  I feel like my recent success with film and TV placements is Karma saying thanks.
Who are the industry notables you have worked and traveled with in the industry?
As a music director, I've worked with artists such as "Smash" and "American Idol" star Katharine McPhee, Tony Award nominee Laura Bell Bundy to TV stars James Kyson Lee ("Heroes") and Ana Ortiz ("Ugly Betty").   As a vocal coach, I've worked with the mega-talented #1 Billboard charting singer songwriter Lisa Loeb, TV stars Lana Parrilla ("Once Upon A Time") and heart-throb Grant Show ("Melrose Place").  As a singer, I've shared a stage with JoJo, Jody Watley, Blake Lewis, Kina and many others.  I've been at this for a while now so I have been fortunate enough to work with hundreds of talented artists, celebrities as well as up-and-comers alike.
What was the first song you ever wrote?
Oh gosh, I think it might have been for a play that I wrote with my dear friend Chad Kukahiko over twelve years ago.  The play was about a rock band.  Organically, we thought it would be interesting if the rock band actually existed so people wouldn't know which came first, the play or the rock band.    I'll never forget a gig we got to play for a private New Years Eve party here in LA at the turn of the century that we got paid 12K.  We barely could play five songs, but we agreed to perform two hours of music at the party.  Needless to say, we made it happen.
Tell me about your training?
I have a BFA in musical theatre performance from SUNY Fredonia College in New York State.  I also have the training of over two decades of performing, touring, writing and hustling.  If I had the time to go back to school I'd study marketing, orchestra composition and sound recording theory and technique.
What advice do you have for aspiring singers?
Stay positive.  Keep creating.  Don't give up.  Be kind to everyone.  Rinse and repeat.
Tell me about your activism. 
A few years ago, I co-created the Open Artist Movement which produces benefit concerts for Lifeworks, a mentorship program for youth.  These concerts have featured such artists as JoJo, Blake Lewis, Guy B, Kelly King, Alec Mapa, Wilson Cruz & Darryl Stephens, Kina The Beat Freaks, & Jody Watley.  I would search out more ways to help people and animals.
What projects are you working on now?
I have a duet EP coming out in a few weeks with my writing partner Diana Meyer.  The songs are heart-wrenching and stem from both of our personal experiences over the last year of our lives.  The album artwork is a collection of love letters going up in flames if that gives you any idea of the EP's content!
Also, I have a musical movie I've co-written with actor/writer/activist Darryl Stephens that we're fine tuning and working on getting produced, I'm music director for a new musical play by Broadway director Kristin Hanggi and television composer Ben Dector that's work-shopping its way to NYC.  I'm also scoring independent films, producing music for other artists, and I have a burgeoning music publishing company with business partner Phoebe Carter.  I'm forever on the quest to do more of what I love as much as possible.  Ultimately, that is to create music.
Be sure to treat yourself to Kyle Puccia's music by going to http://itunes.apple.com/us/artist/kyle-puccia/id46746070