'The Man From U.N.C.L.E.': The Complete Series Comes To DVD November 27

Open Channel D…. one of the greatest television shows of all time, and the first successful spy show on American television, will finally arrive on DVD, as Time Life and Warner Home Video debut
The Man From U.N.C.L.E: The Complete Series
this fall. The Golden Globe® award-winning series, starring
Robert Vaughn
(
HU$TLE
,
Superman III
) as Napoleon Solo and
David McCallum
(
NCIS
,
The Great Escape
) as Illya Kuryakin, originally aired on NBC from 1964 to 1968 and earned an astounding 16 Emmy award nominations during its run.
The Man From U.N.C.L.E.: The Complete Series
includes all four seasons of the series, the majority of which has never before been available on home video. All 105 episodes arrive November 27 featuring nearly 10 hours of stunning bonus material such as a new, in-depth interview with stars Vaughn and McCallum, original featurettes, home movies from the production set, the original, never-before-aired on network TV pilot episode, and much, much more.
The Man From U.N.C.L.E: The Complete Series
41-disc DVD set will be available on November 27 .
The Man From U.N.C.L.E.
super-sized collection, specially packaged in a silver "attaché case," contains every original, unedited episode from all four seasons of the series - a total of 105 episodes packaged in a magnificent collector's boxed set. Series co-stars Vaughn and McCallum sat down for the first time in over 20 years for the 90 minute interview included in the newly produced bonus features. An additional fifteen interviews with
U.N.C.L.E.
production crew members, fans and experts, including directors Richard Donner and Joseph Sargent and writers Dean Hargrove and Peter Allan Fields, are also featured in the generous amount of DVD extras. Nine original featurettes boast an amazing array of rare clips and memorabilia, including behind-the-scenes footage of guest star and Hollywood legend
Joan Crawford
, one of many notable guest stars to appear throughout the series, among them
Vincent Price
,
Kurt Russell
, and
William Shatner
with
Leonard Nimoy
two years prior to
Star Trek
. An "Art and Artifacts" featurette highlights set designs and blueprints, scripts, production memos and more. Several featurettes explain the history and divulge little known information about the series, others showcase the innovative gadgets, vehicles and wardrobe, and the unique music created specifically for
The Man From U.N.C.L.E.
James Bond
creator
Ian Fleming
was involved in the early development of
The Man From U.N.C.L.E.
and came up with the name "Napoleon Solo." Fleming's hand-written notes about
U.N.C.L.E.
lots and characters are included in the bonus features of the DVD set.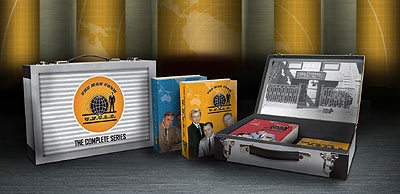 Beyond the material newly produced for this ultimate DVD set, Time Life and Warner Home Video have recovered the unaired, original color pilot for the series, titled simply "Solo," as well as the 1966 theatrical film
One Spy Too Many
, which hasn't been seen since its initial limited release. The set also includes vintage network promotional spots, trailers, commercials and TV appearances with Vaughn and McCallum. As a very special addition, McCallum has contributed his own home movies filmed on the
U.N.C.L.E.
set, which appear with his newly-recorded commentary.
"
Revisiting The Man From U.N.C.L.E. for the DVD release was wonderfully satisfying - this show represents the best time of my life.
" - Robert Vaughn
"
So many moments. So many faces. So many memories. What a pleasure to take part alongside Robert in this extraordinary tribute to all those associated with 'The Man From U.N.C.L.E.
'" - David McCallum
Action-adventure series
The Man From U.N.C.L.E.
evolved around the activities of the unlikely partnership of American spy Napoleon Solo and Russian spy Illya Kuryakin, both top agents for an international law enforcement agency, the United Network Command for Law and Enforcement. The show, whose characters were created in part by
James Bond
's Ian Fleming, adhered to the original serious tone throughout the first two seasons. By the third season, an element of humor was added, but when ratings dropped, an attempt was made to return to serious storytelling in the fourth and final season. Throughout its run,
The Man From U.N.C.L.E.
received multiple major award nominations, including two Emmy nominations each for McCallum and supporting character Leo G. Carroll for his role as Mr. Alexander Waverly, two more Emmy nominations as the year's outstanding entertainment program, and a Golden Globe win for Best TV Show in 1966.
Time Life, working in conjunction with Warner Home Video, spent over six months preparing bonus material and the lavish collector's packaging for
The Man From U.N.C.L.E.: The Complete Series
. Future releases will include
The Man From U.N.C.L.E.: The Complete First Season
, which will \be available as an 11-disc set with over two hours of bonus material, also through the Time Life website and additionally through direct-response television commercials. The series is due to be released to retail outlets by Warner Home Video in fourth quarter 2008.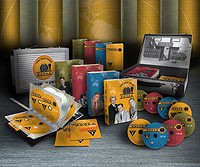 The Man From U.N.C.L.E: The Complete Series (41-DVD Set) Collection includes:
- 41 DVDs in special "attaché case" collector's packaging.
- 4 eight-page booklets with liner notes written by Jon Burlingame (journalist, producer of
The Man From U.N.C.L.E.
music CDs), Craig Henderson (journalist,
U.N.C.L.E.
fanzine publisher); Cindy Walker (author of Work/Text: Investigating
The Man From U.N.C.L.E.
) and David Bianculli (television critic, NY Daily News).
- All 105 Original unedited episodes (1964-68).
- Interview: "Double Agents - The David McCallum & Robert Vaughn Reunion"
- "Solo" - the original color
U.N.C.L.E.
pilot.
- One Spy Too Many - the feature film based on
The Man From U.N.C.L.E.
9 Featurettes:
- "The Cloak and Swagger Affair: The Untold History of The Man From U.N.C.L.E."
- "The Spy-Fi Tour: Archives, Art & Artifacts"
- "Cold War, Hot Spies: U.N.C.L.E. and the Cold War"
- "MGM's Secret Operations"
- "Guns, Gizmos, Gadgets and Garb"
- "Behind the Wheel: U.N.C.L.E.'s Piranha"
- "Fandemonium"
- "The Music from U.N.C.L.E."
- "The Girls of U.N.C.L.E."
- 17 On-camera interviews with David McCallum, Robert Vaughn, Director Richard Donner, Writer Peter Allan Fields, Writer Dean Hargrove, Director of Photography Fred Koenekamp, Assistant Producer George Lehr and Director Joseph Sargent and others.
- 4 "U.N.C.L.E V.I.P.s - A Celebration of U.N.C.L.E. Guest Stars" clip collections, featuring Eddie Albert, Joan Collins, Joan Crawford, Janet Leigh, Leonard Nimoy, Carol O'Connor, Jack Palance, Slim Pickens, Vincent Price, Kurt Russell, William Shatner, Sonny & Cher and many more!
- "The Secret Tapes of Illya Kuryakin: Home Movies from the Set of U.N.C.L.E."
- Clips from Robert Vaughn and David McCallum's appearances at the 1965 Emmy and Golden Globe broadcasts, plus a clip from McCallum's appearance on The Andy Williams Show.
- Tom & Jerry Cartoon - "The Mouse From H.U.N.G.E.R."
-
U.N.C.L.E.
memorabilia, Ian Fleming's personal notes, NBC Broadcast and Standards memos, research files, set designs and blueprints.
- Promos, trailers and television commercials.
- "Hidden Camera: An U.N.C.L.E. Photo Gallery"
Video Clips:
-
In an iconic moment from the rarely seen color pilot "Solo," Napoleon Solo is introduced in a highly dramatic way, first appearing behind bulletproof glass, then emerging to kill a Thrush operative who has broken into U.N.C.L.E. headquarters.
-
"What a goodly outside falsehood hath!" Illya discovers a deadly insect in the boutonniere that has just been pinned on Solo's lapel by a Thrush femme fatale in a scene from the first-season episode "The Deadly Games Affair."
-
Solo, Illya and companion Tracey (Dorothy Provine) appear doomed in this scene – set in a lost Egyptian tomb – from Part II of the "Alexander the Greater Affair," which opened the series' second season.
About Time Life
Headquartered in Fairfax VA, Time Life was founded in 1961 as a direct marketing company specializing in music and books. It has since grown to become one of the world's largest direct marketers of audio and video products, selling more than 13 million units each year throughout North America, Europe, Asia and Australia. Time Life set the standard in the direct response industry by pioneering direct marketing techniques, building one of the most trusted and recognized brands in commerce. The company now also sells their products through major traditional and non-traditional retailers around the world as well as via the Internet. Time Life is a registered trademark of Time Warner Inc. used under license by Direct Holdings Americas Inc., which is not affiliated with Time Warner Inc.
About Warner Home Video
global video marketplace. Warner Home Video's film library is the largest of any studio, offering top quality new and vintage titles from the repertoires of Warner Bros. Pictures, Turner Entertainment, Castle Rock Entertainment, HBO Video and New Line Home Entertainment.