The Learning Curve: This Week Is For Real... Again

Yeah, I do say it often, but still, it bears repeating my friends - this weeks' Learning Curve has it all, for reals this time, I promise. Just check it out.
You want rock? We have Burn Halo and Black Water Rising for you. You want powerpunk? We offer you Fireworks. Is it metal you are looking for? Then look no further than Fleshwound. Are you in the mood for something a little off the beaten path? Check Kiss Kiss.
See ladies and gentleman? I have gone out of my way again this week to bring you things and bands you may have otherwise not known about, and more importantly, not heard.
Enjoy.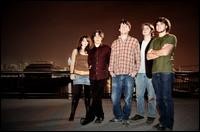 Kiss Kiss
Hail from:
New York, NY
Label:
Eyeball Records
Sounds like:
Gogol Bordello, DeVotchKa, the Dredsen Dolls
You should be listening to:
'Reality vs. The Optimist'
LISTEN TO THEM
I Should Care Why?:
Chances are you may have never heard a sound quite like what Kiss Kiss are capable of producing. It's hard to describe, but it is something like a sonic kick in the crotch, or according to the band, maximalist avant-rock, circus-punk soundtrack to being stuck in a mental institution where we're the only one who's not crazy. See, I told you it was hard to put label on, but it bears witnessing to say the least.
Burn Halo
Hail from:
Los Angeles, CA
Label:
Rawkhead Records
Sounds like:
Papa Roach, Hinder, Theory of a Deadman
You should be listening to:
'Self Titled'
LISTEN TO THEM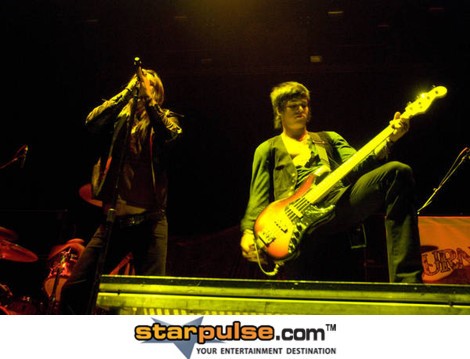 Burn Halo Performs at Allstate Arena - February 27, 2009 - Adam Bielawski / PR Photos
Should Care Why?:
Yeah, it sucks when good bands breakup, that much is for sure, and to me, Eighteen Visions was a good band. Well, as they say the show goes on, so enter Burn Halo, the new project of ex-18V frontman James Hart. They are an honest built for radio play, complete with huge guitars, memorable hooks and enough driving rock and roll to make it interesting. Hart's voice is still as good as ever. If you heard 18V's last record, then you have a good idea of what BH is all about.
Black Water Rising
Hail from:
Brooklyn, NY
Label:
None
Sounds like:
Dark New Day, 12 Stones, Crossfade
LISTEN TO THEM
I Should Care Why?:
Black Water Rising boasts former members of Dust to Dust (Rob Traynor) and Stereomud (Johnny Fattoruso), but their former affiliations have no bearing on their current sound, well except for Traynor, since you know, he sang for D2D. Anyways, these guys blend a solid amount early-90's sludgy grunge and modern rock to achieve their penultimate sound, which, believe you me, is good. Check out 'Brother Go On' and then tell me I'm wrong. Go ahead, I'll wait.
Fleshwound
Hail from:
Northwest, OH
Label:
None
Sounds like:
Pantera, Dropbox, Black Label Society
You should be listening to:
'Til It Bleeds'
LISTEN TO THEM
I Should Care Why?:
The best part about this gig is being able to find and unearth bands that deserve attention before anyone else does. I like being the first person to find good, new bands. Case in point - Fleshwound. It's pretty hard to ignore a band that possesses talent. You can hear an 80's era metal influence in their music, which just adds to their overall musical dynamic. 'Walking Dead Man' is so good that if it were there only song, they'd still make this list.

Fireworks
Hail from:
Detroit, MI
Label:
Triple Crown Records
Sounds like:
New Found Glory, Hit the Lights, Lucky Boys Confusion
You should be listening to:
'All I Have to Offer Is My Own Confusion'
LISTEN TO THEM
I Should Care Why?:
Ok, Ok, I know what you are going to say - Wow man, Fireworks really sounds like New Found Glory. My response? NFG is an excellent band, so sounding like them is bad why? Exactly. The hooks are so massive that you might hurt your throat trying to belt them out in your own, or the shower, whatever works for you. These guys are carbon copy, and their songs aren't simply scene fodder or castoffs, they need to be heard. You should be clicking the link to their MySpace now.
Story by
Brian Campbell
Starpulse contributing writer