The Learning Curve: International Flavor Includes Tokio Hotel, 4LYN And More

(The Learning Curve)
I thought this week we would change things up a little bit. Here is the first International In the Shadows article. There are more to come, but people always seem to be remembering the first the fondest, even if you aren't multi-lingual.
Right out of the gates we have some of the heavier hitters from overseas, as Germany, New Zealand, Japan and Malaysia are all represented by some fantastic bands.
4LYN and the soon to be your favorite band Tokio Hotel hit US shores straight from Germany, Pop Shuvit want you to notice them coming straight out of Kuala Lumpur and Girugamesh grinds all the way from Japan. Even the now defunct Blindspott provides some good New Zealand flavor.
Enjoy my friends, and you don't even have to travel to find these bands, or learn their native tongue.
1.) 4LYN
- Rock
Hail from:
Germany
Label:
Rodeostar Records
Sounds like:
AFI
,
Aiden
,
H.I.M.
You should be listening to:
'Hello'
LISTEN TO THEM
I Should Care Why?
4LYN hails from Germany, and before you make any hasty comparisons or assumptions, know that they are more AFI than Rammstein. Think hooky rock with big guitar riffs and piercing vocals and you have 4LYN. Their song 'Nostalgia' might be the best rock song that you have never heard. How about you change that today?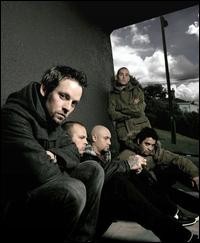 2.) Blindspott
- Rock
Hail from:
New Zealand
Label:
None
Sounds like:
RED,
Blindside
, Dry Cell
You should be listening to:
'End the Silence'
LISTEN TO THEM
I Should Care Why?
Granted Blindspott did breakup, but that doesn't mean you can't still enjoy their music. 'End the Silence' was a solid piece of rock that never really got the respect it deserved in the States, even though it debuted at number one in New Zealand. The band eventually went their separate ways to pursue solo careers, but at least they left us with 'End of Silence.' It's sort of like they left us the cute puppy after the breakup.
3.) Girugamesh
- Punk/Metal
Hail from:
Japan
Label:
Danger Crue Records
Sounds like:
Mucc, AFI,
I Am Ghost
You should be listening to:
'Self Titled'
LISTEN TO THEM
I Should Care Why?
Sure all of their vocals are in Japanese, but that shouldn't deter you from enjoying this band. They have a quality punk/metal fusion sound going on, and their choruses can carry a song if need be. Think something of an I Am Ghost minus the duel vocal aesthetic, combined with the hooky sensibilities of an AFI. That's Girugamesh in a nutshell. They also score points for not being afraid of the heavy.
4.) Pop Shuvit
- Raprock
Hail from:
Kuala Lumpur
Label:
None
Sounds like:
Insolence, Nullset, 3rd Strike
You should be listening to:
'Amped and Dangerous'
LISTEN TO THEM
I Should Care Why?
Pop Shuvit immediately score points for being named after a skateboarding trick, even though their music is about seven years too late. They might be behind the times with their rock/hip-hop sound that was popular in the states circa 2000, but apparently every other country in the world digs what they have to offer. Listening to Pop Shuvit brings me back to a time when I spent all of my time playing the original Tony Hawk Pro Skater for Playstation and was listening to bands of the same ilk, like SX-10, Papa Roach, Endo, etc. Their music is refreshing, so take heed.

5.) Tokio Hotel
- Emo/Pop
Hail from:
Germany
Label:
Universal/Interscope
Sounds like:
Hawthorne Heights
,
The Rasmus
,
Senses Fail
You should be listening to:
'Scream'
LISTEN TO THEM
I Should Care Why?
The boys in Tokio Hotel are the primed to be the next big overseas band to come to the States and hit it big. They are already backed by some heavy hitters in the business in labels Interscope and Universal, not to mention Hot Topic is also championing them. Their music knows no borders, and their goth/glam take on powerpop might just be the injection of life that the oft-maligned genre needs. Sure emo is full of young teenage bands, but it isn't full of much quality. Tokio Hotel might be what we need.
Story by
Brian Campbell
Starpulse contributing writer