The Learning Curve: Bands Worthy Of A Listen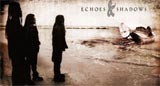 This week the
Learning Curve
delves deeper into what bands could be on the brink of stardom, ready to break out. Some are signed and some aren't, but keep in mind that since they are on here, there are worthy of a listen. I'm not going to waste your time with anything not worthy of it.
It may sound a tad tired, but this week has something for everyone's palette. Every side of the spectrum is covered, well almost, from the indie-rock goodness of
Finale
, the hard rock attitude of
Vayden
, the post-hardcore atmospherics of
Secret and Whisper
to the industrial styling's of
Never Enough
and the instrumentations of
Echoes and Shadows
.
You might recognize some of the players, but their game has changed.
Enjoy.
Finale
Hail from:
Buffalo, NY
Label:
None
Sounds like:
City and Colour
, Foreverinmotion, The Format
You should be listening to:
Assorted Songs
LISTEN TO THEM
I Should Care Why?:
While Finale might be the alter ego of
Every Time I Die
frontman Keith Buckley, the music couldn't be any more different. Unlike ETID, you can actually hear Buckley's voice, in all of its indie glory. Yeah, I said indie. Just hearing Buckley carrying a clean hook is worth the price of admission alone. Indie rock fans rejoice, you've converted another.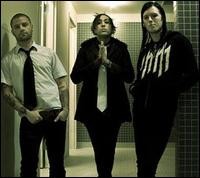 Never Enough
Hail from:
Orange County, California
Label:
Corporate Punishment
Sounds like:
Marilyn Manson
, Black Light Burns, Celldweller
You should be listening to:
'1.0'
LISTEN TO THEM
I Should Care Why?:
Featuring ex-members of
Eighteen Visions
, Never Enough boasts solid, downtuned guitars drenched in enough synth work to keep you moving all night long. Yeah, their 'cool' knack for spelling words with numbers in place of letters is annoying, but their Manson meets Julien-K music is not.
Secret and Whisper
Hail from:
Kelowna, Canada
Label:
Tooth and Nail
Sounds like:
Thrice
,
Saosin
, the Bleedingalarm
You should be listening to:
'Great White Whale'
LISTEN TO THEM
I Should Care Why?:
This is a band that could easily get lost in the shuffle since they sound like a lot of other bands, and that's a shame. 'Great White Whale' is an album chock full of pure, unadulterated post-hardcore goodness, and for those of you who say Secret and Whisper are another carbon-copy clone, just take a listen to the heart-on-sleeve honesty of their acoustic version of 'Anchors.'
Echoes and Shadows
Hail from:
Brooklyn, New York
Label:
None
Sounds like:
Ascension of the Watchers,
Neurosis
, Pelican
You should be listening to:
'An Emissary of Mine'
LISTEN TO THEM
I Should Care Why?:
It's sludgy, it's progressive, and it is instrumental. This New York City power trio characterizes their music to sound like 'waves that never break and the sad sound of the wind.' Well, I'm not quite sure what that means, but their music is thoroughly expansive, constantly reaching, and atmospherically textural. At times, Echoes and Shadows is mountainous, and other, it is scary. It needs to be experienced to be believed. Not to mention the ever-brilliant Burton C. Bell lends his throat to some tracks. That's worth listening alone.
Vayden
(www.myspace.com/vayden)
Hail from:
Phoenix, Arizona
Label:
Silent Majority Group
Sounds like:
Tantric
,
Thornley
,
Crossfade
You should be listening to:
'Children of Our mistakes'
LISTEN TO THEM
I Should Care Why?:
Lead singer Curtis Casey said his band sounds like 'everything you've ever imagined yet nothing you've ever heard.' Hmm, well, I'd have to disagree. You could turn on almost every modern rock station and hear this type of music, however, Vayden is definitely and an up-and-comer in the game. Singles 'Anthem of the Used' and 'The One You Left Behind' are evident of that as good sounding, well crafted and radio ready, and this band has the talent to go places. Now, it is up to you to take heed.
Story by
Brian Campbell
Starpulse contributing writer