The Learning Curve: A Fresh Crop Of New Bands To Try

(The Learning Curve)
Red and the Confession bring the heavy, Driver Side Impact and Fair to Midland bring post-hardcore goodness that we all know and love and Black Light Burns features a familiar face playing unfamiliar music.
This week we get introduced to another fresh crop of bands for your aural pleasure, and there are good ones tossed in the mix.
Again, there is something for everyone in this weeks' lesson. We have some emo stuff, metal stuff, and as always some good rock and roll.
Enjoy.
1.) Driver Side Impact
- Emo/Post-Hardcore
Hail from:
Cleveland, OH
Label:
Victory Records
Sounds like:
I Am the Pilot
,
Senses Fail
,
Silverstein
You should be listening to:
'The Very Air We Breathe'
LISTEN TO THEM
I Should Care Why?:
With the rock/emo tagged placed on them, you would think they are going to sound like all of the other 'dime a dozen' bands, right? Well, not completely true. They are more rock than emo, and add a lot of post-hardcore and even dance nuances that give their music flavor, and just that much originality. They do enough to get that much needed bit of separation from the pack.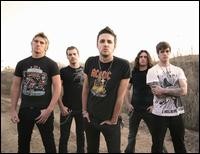 2.) The Confession
- Rock/Metal
Hail from:
Orange County, CA
Label:
Science Records
Sounds like:
Bullet For My Valentine
,
Avenged Sevenfold
,
Iron Maiden
You should be listening to: 'Requiem'
LISTEN TO THEM
I Should Care Why?:
They are one of the most refreshing and exciting rock/metal bands I have heard in a few years. They are a better version of Avenged Sevenfold because their guitars and hooky vocals are more in-your-face. They channel a lot of early Maiden with their guitar soloing, and should have you trying to sing along at the same time you are head banging. They are mosh pit inciters for sure.
3.) Black Light Burns
- Rock/Industrial
Hail from:
Los Angeles, CA
Label: I AM:
Wolfpack
Sounds like:
Nine Inch Nails
,
Ashes Divide
, The Dreaming
You should be listening to:
'Cruel Melody'
LISTEN TO THEM
I Should Care Why?:
Hands down the best project the brilliant Wes Borland has ever been a part of, and yes, including
Limp Bizkit
. I once told Wes that maybe if he sang for Bizkit they wouldn't suck as bad as they do now, and I believe that. Who knew he was this talented of a songwriter and singer? His song arrangements are excellent, and so is the music itself. Do yourself a favor and indulge now.

4.) Fair to Midland
- Rock/Prog
Hail from:
Dallas, TX
Label:
Serjical Strike
Sounds like:
Dredg
,
Circa Survive
,
The Mars Volta
You should be listening to:
'Fables From a Mayfly'
LISTEN TO THEM
I Should Care Why?:
First off, any band that can be seriously compared to Dredg is a winner automatically. They have a winning, marketable song that can win over fans and scenesters alike in a lot of genres. They are equal parts rock, post-hardcore and indie, and 100 percent catchy. They have a definable sound, and it is surely one that you will like if you give it a listen.
5.) Red
- Rock
Hail from:
Nashville, TN
Label:
Epic
Sounds like:
Breaking Benjamin
,
10 Years
,
Framing Hanley
You should be listening to:
'The End of Silence'
LISTEN TO THEM
I Should Care Why?:
They flat out rock. That's it, enough said. They are uber-catchy and can slow it down ('Pieces') as well as they can melt your face with their rock ('Wasting Time'), and they are somehow as underground and indie as they are mainstream. I'm not quite sure how that works exactly, but their music speaks for itself. You can just as easily find them at modern rock radio as you can on some under-the-radar rock tour.
'The Learning Curve,' is a weekly column that showcases five bands that normal music fans would otherwise never hear off.
Give these bands a listen and let us know what you think. Comment in the box below.
Story by
Brian Campbell
Starpulse contributing writer