'The Last House On The Left': Wrong Place, Wrong Time Movies

Follow the shocking and terrifying story that explores how far two ordinary people will go to exact revenge on the sociopaths who violently attacked their daughter in
The Last House on the Left
.
Masters of horror
Wes Craven
and Sean Cunningham revisit their landmark film that launched Craven's directing career and influenced decades of horror films to follow:
The Last House on the Left
. Bringing one of the most notorious thrillers of all time to a new generation, they produce the story that explores how far two ordinary people will go to exact revenge on the sociopaths who harmed their child.
In
The Last House on the Left
, the wrong place/wrong time theme seems to underlie the story in more ways than one. Usually being in the wrong place at the wrong time seemt to happen to innocent people who need to stop for the night, or whose car breaks down, or who are set up by the denizens of strange locales. Here are a few of our other favorite 'Wrong Place, Wrong Time' movies:
Vacancy
A typical characteristic of the
wrong place, wrong time
movie is the car breakdown. In this case, a couple (
Luke Wilson
& the beautiful, yet strong career choice challenged,
Kate Beckinsale
), checks in to a motel room after their car breaks down and they discover that all the low-budget slasher horror films that come with the room were all shot there. Uh-oh.
Trailer: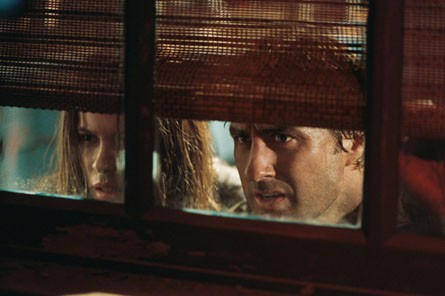 Which leads us to...
Next Page