'The Last Exorcism' DVD Review & Interview With Patrick Fabian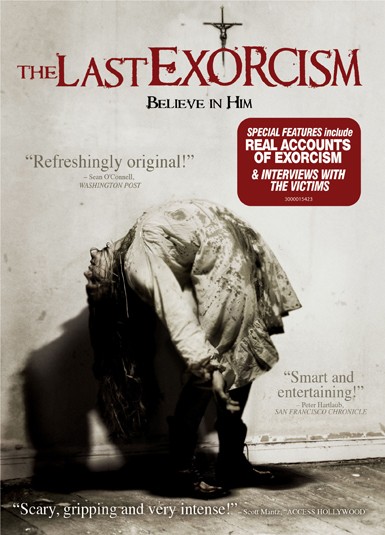 Releasing on DVD and Blu-Ray January 4th, 2011, "The Last Exorcism" is the perfect film to watch while snuggled-up under a warm blanket on a cold winter's night—especially if you like an actual story with your scares. We had an opportunity to interview Patrick Fabian, who portrays central character Reverend Cotton Marcus in the film. Fabian delivers a superb performance as Cotton, a surprisingly complex character for a horror flick, who questions his faith and ultimately faces the consequences of living a lie.
"The Last Exorcism" is filmed in the documentary-style seen in similar horror movies, such as "The Blair Witch Project," and more recently the "Paranormal Activity" franchise. Fortunately, the plot of the film allows for Cotton to have a professional camera man in his crew, giving "The Last Exorcism" much less of the jerky, amateur cinematographer feel.
"We're bringing a camera crew on; we don't have to sneak our shots in," explained Fabian during the interview. "Because of that, Zoltan (Honti) has a steady hand … we get into a scene, he covers what we want to see, not in a sneaky way, but in a way that allows the audience to forget that he's a camera man, as opposed to some other films that you're hyper-aware that they're shooting on an iPhone or something like that."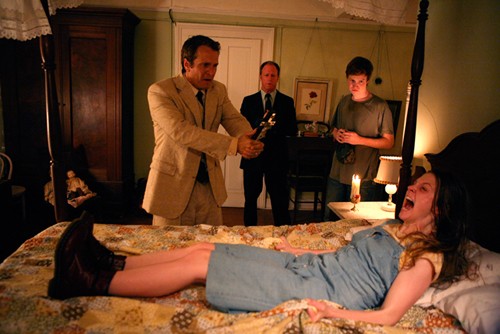 'The Last Exorcism:' The Compelling Plot
As with most documentary-style films, "The Last Exorcism"starts more slowly than traditional horror films, as the characters introduce themselves and detail the back-story. Cotton is the son of a preacher who followed in his footsteps, eventually into the role of Exorcist. We quickly learn that Cotton is something of a con man, justifying the performing of exorcisms for income as a service to members of the congregation who believe they are in need. "Cotton was at least playing fast and loose with his faith, if there is much of faith there," explained Fabian about his character. Cotton has decided to expose the scam of exorcisms, including his own 200 performances, after learning that a boy was suffocated during a botched attempt. He opts to accept the first request for help he receives, and assembles a crew consisting of a camera man and a sound technician to document the trip.
We watch as Cotton and his crew drives to the Sweetzer farm in rural Louisiana, where a man (Louis Herthum) is convinced his daughter, Nell (Ashley Bell), is possessed with a demon. Cotton uses a few compelling scams at the farm; a bit of twine attached to the bed post and bubbling water confirm the demonic presence in Nell. He performs a convincing exorcism, and assures Louis Sweetzer that his daughter is fine once more. Ashley Bell is endearing and innocent as young Nell—an impressive contrast to the girl viewers meet that night at Cotton's motel room, where she inexplicably appears in a trance-like state. When it is revealed that Nell is pregnant—and that her father refuses to believe the diagnosis—Cotton feels compelled to stay in Louisiana and try to ensure that Nell will receive both medical and psychiatric care.
Nell slips further and further from sweet, southern girl into full-blown demonic terror as Cotton and his team stand by helplessly. Cotton, who seemed to doubt the validity of his faith and the reality of demons, is suddenly face-to-face with a very convincing case for their existence. "By the end, we definitely see a transformation, where all of a sudden there's a power, something, greater than himself that effects and inspires him to do what he does at the end," Fabian foreshadowed.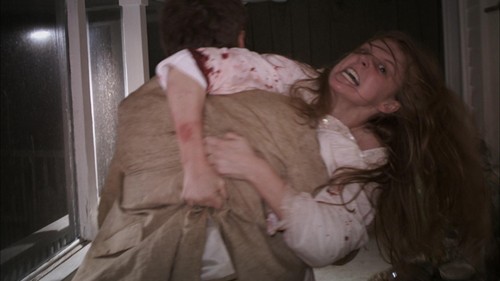 'The Last Exorcism:' The Stellar Cast
The cast members and crew of "The Last Exorcism" have received numerous awards and praise for their work, including a People's Choice Award; Fabian received two Best Actor awards, and Bell was nominated for an Independent Spirit Award.
Fabian, a self-proclaimed fan of the horror movie genre, manages to deliver a performance which makes Cotton seem both likeable and underhanded; both doubting his faith, and rediscovering it. "My favorite trait is [Cotton's] ability to find humor in the situations he's being thrown into," Fabian shared during the interview. "The least attractive quality is his … there's a bit of dishonestly in him. The way that he has behaved in the past, the way that he sort of sells himself as one thing but perhaps isn't as genuine at backing it up."
During the film, we see the incredible versatility of newcomer Ashley Bell as an actress. "I've said it before and I'll say it again—I can be as good as I can be as a preacher, but if you're in an exorcism film and you don't believe the possessed girl, you don't have a film," Fabian explained of his co-star. "And we do believe her, and that's why I think the film really sings." Bell had the added challenge of playing two drastically different sides of the same character—and one of them had to be terrifying. "She was so solid in both sides of the coin of the character she played," praised Fabian.
Part of the believability of "The Last Exorcism" as a documentary-style film is the attention to detail on the part of the cast and crew. Fabian shared insight into that accomplishment: "We had a preacher/real-life exorcist on set with us, and what got me about talking with him was that there was a real casualness, a matter-of-factness when he talked about the exorcisms that he has performed." One sermon in particular, featuring Cotton preaching about banana bread, remains a favorite of Fabian: "We spent two days preaching basically, and I had such a fun time doing that. It's very exhilarating, it's very on-the-spot, and I think that's why that moment really works in the film." The Blu-Ray version of "The Last Exorcism" offers a behind-the-scenes look at what went into the banana bread sermon.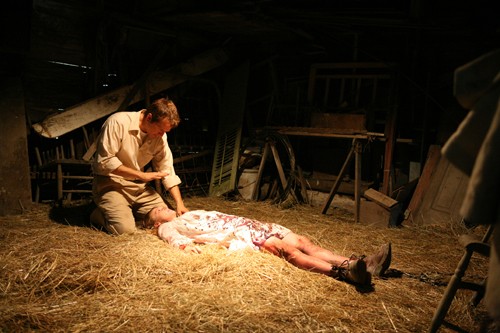 'The Last Exorcism:' The Verdict
Fans of the horror genre, especially those looking for some truly creepy, shocking scenes, shouldn't be disappointed with "The Last Exorcism," provided they are patient with the slow beginning. The cast and their performances alone merit a look at the frightening events happening at the Sweetzer farm, and 'The Last Exorcism' manages to be much more than just another exorcism film. The cinematography is more direct, stable and reliable than most documentary-style films, which truly adds to the more horrific and startling moments. Not to mention the delicious irony of a supposedly faithful man being confronted with the thing he never really believed in.
"It makes an excellent Valentine's Day gift, you can also use your Amazon.com gift card that you got for Christmas," Fabian joked, regarding the film's release onto DVD and Blu-Ray on January 4th, 2011. Odds are, most scary movie fans will be inclined to agree with him.
You can read more about "The Last Exorcism" on the official website, or learn more about the man behind Cotton at Fabian's website.