'The Kite Runner,' Based On The Phenomenal Best-Selling Novel, Now Out On DVD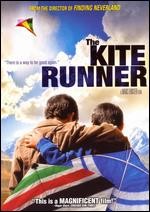 The "poignant, intimate epic" (Alissa Simon,
Variety.com
) based on Khaled Hosseini's best-selling novel,
The Kite Runner
, arrived on DVD March 25, 2008 from Paramount Home Entertainment.
Directed by Marc Forster (
Finding Neverland
), the sweeping and emotional tale of friendship, betrayal and redemption received widespread critical acclaim and an Academy Award® nomination for Best Original Score, as well as Golden Globe® nominations for Best Foreign Language Film and Best Original Score—Motion Picture.
Spanning several decades and set against the backdrop of first the Soviet invasion and then the Taliban takeover of Afghanistan,
The Kite Runner
tells the story of Amir and Hassan, two boys who form an unlikely friendship in Kabul. But Amir's failure to defend Hassan against a brutal attack leads to crushing guilt and the boys' ultimate separation. Forced to flee Kabul ahead of Soviet troops, Amir and his father escape to the United States to pursue a new life, but years later the adult Amir is presented with an opportunity to "be good again" and come to the aid of his long lost friend's son. A life-affirming story of courage and forgiveness,
The Kite Runner
is a film that powerfully combines gripping suspense with universal themes to transcend time and place and touch the hearts of viewers everywhere.
The Kite Runner
DVD features commentary with Marc Forster, author Khaled Hosseini and screenwriter David Benioff, and the featurettes "Words from
The Kite Runner
" and "Images from
The Kite Runner
."
Trailer:
Windows
|
QuickTime
"This is a magnificent film…." – Roger Ebert,
Chicago Sun-Times
Enter The Kite Runner sweepstakes! One lucky winner can win a $1,000 and a copy of The Kite Runner on DVD!
The Kite Runner DVD is presented in widescreen enhanced for 16:9 TVs with Dolby Digital English 5.1 Surround, French 5.1 Surround and Spanish 5.1 Surround and English, French and Spanish subtitles. The DVD includes the following special features:
- Commentary with Marc Forster, author Khaled Hosseini and screenwriter David Benioff
- Words from The Kite Runner
- Images from The Kite Runner
-Public Service Announcement with Khaled Hosseini
-Theatrical Trailer
About Paramount Home Entertainment: Paramount Home Entertainment (PHE) is part of Paramount Pictures Corporation (PPC), a global producer and distributor of filmed entertainment. PPC is a unit of Viacom (NYSE: VIA, VIA.B), a leading content company with prominent and respected film, television and digital entertainment brands. PHE is responsible for the worldwide sales, marketing and distribution of home entertainment products on behalf of various parties including: Paramount Pictures, DreamWorks Studios, Paramount Vantage, Paramount Classics, Nickelodeon, MTV, Comedy Central, CBS, PBS and Hasbro and for providing home entertainment fulfillment services for DreamWorks Animation Home Entertainment.