The Kitchen Is Getting Hotter On 'Top Chef,' Dale Is Sent Home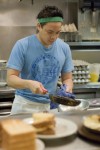 The best way to get past an elimination is with a fresh start, so rise and shine
Top Chefs
! Coliccio surprised them at the crack of dawn to announce that they would have their Quickfire Challenge at one of the best breakfast joints in Chicago (Mitchels?). They would be line chefs preparing eggs. Sounds easy, doesn't it? However, egg chefs have sausage, bacon, poached eggs, and potatoes to worry about on top of all the specifications that are thrown at them per order. The winner of the challenge would be the person the owner would most likely hire. The owner really liked Antonia and Dale, with Antonia taking home her fourth Quickfire win. The twist for this episode, strangely, was that Coliccio wasn't going to be at eliminations.
For their Elimination challenge, the group was given an address. When they arrived at said address, they found out that in traditional "Top Chef" fashion they are having RESTAURANT WARS! Since Antonia won the Quickfire, she was able to pick her team. Interestingly, the teams that were created were the same teams that went at it during Wedding Wars.
They were composed of Antonia, Stephanie and Richard; and Dale, Spike and Lisa. Everyone seemed to think of it as a rematch. Restaurants were called Warehouse Kitchen and Mai Buddha, respectively. They would be able to use $5,000 for items at Pier One to decorate the space. The teams had to decide who would be running the front of house and who would be executive chef for the night.
Antonia was executive chef for her team, and Dale and Lisa had to flip a coin since both of them wanted the position. Dale ended up winning.
Anthony Bourdain
made yet another appearance during this season to announce that he would be taking Tom's place at the judges table. Because of this, Lisa was extremely worried (and her team should have been). Anthony is well traveled, and he has a very overdeveloped palate. He would be able to tell the difference between good (what we would consider great) and incredible originiality.
Antonia pointed out that Dale is a one-act guy in that he always does Asian cuisine. It is apparent early on who would win and who wouldn't. Dale's team couldn't seem to get it together. Their dishes didn't come out the way they wanted, and they had to adjust a number of recipes. When it came time to bringing the dishes out it got tense.
Because the teams had such a difficult challenge ahead of them, Anthony announced that they were allowed to pick ex chefs from this season to help them. Antonia picked Nikki for her pasta making capabilities, and Dale chose Jen because he knows she will be a big help. The top and bottom teams were strikingly different, and the mistakes being made were horrible. It showed in the dishes, and the judges could even smell the tension wafting out of the kitchen.
At the judges table, it was no surprise that team Warehouse Kitchen's flawless performance led them to win. Stephanie was the winner of the Elimination challenge and will be taking home a round-trip for two to Barcelona, Spain, including four-star luxury accommodations and a guided wine tasting tour for two. Anthony was impressed overall. As for the bottom three, no surprises there. Dale and Lisa just couldn't stop barking at each other. Anthony said that Dale fell down and fell down hard with his butterscotch scallop dish and that Lisa's way-too-smoky Laksa dish wasn't much better. In the end, Dale was asked to pack his knives.
Next time, with five remaining, the kitchen is just getting hotter. Are you ready for "Top Chef?"
Story by
Kristin M. Koltz
Starpulse contributing writer