'The Kids Are All Right' – A Movie to Stand Up To Summer Blockbusters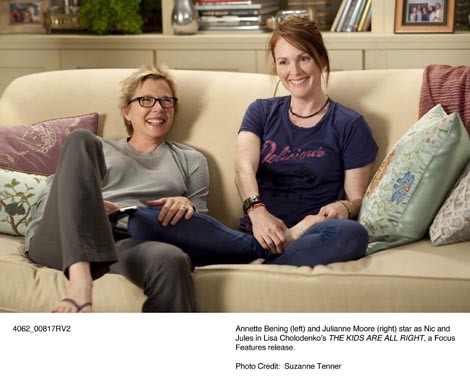 Fortunately for some (and unfortunately for others) summertime is synonymous with huge blockbusters at the theater. Two hours filled with action, romance and millions of dollars spent in special effects and stunt work certainly make going to the movies a bit harder to pass up.
However, there are other non-blockbuster movies that deserve a little love this summer. One such movie is 'The Kids Are All Right' directed by Lisa Cholodenko and starring Annette Bening, Julianne Moore and Mark Ruffalo. Consider this movie the story of a modern family trying to navigate through the complexities of life in Southern California. Sound familiar? Well toss in some anonymously donated sperm, a lesbian marriage, teen angst and Mark Ruffalo making gardening look GOOD and out comes a completely different ball of wax worth seeing.
Nic, played by Bening, and Jules, played by Moore are the pretty typical married couple with two children, Joni played by Mia Wasikowsak and Laser played by Josh Hutcherson.  Nic is an accomplished doctor who values hard work, a successful career and a tall glass of red wine. Jules, by comparison, slightly lost as well as insecure with the prospect of starting a new landscape design business but she's very passionate about exploring all of life's opportunities in a very free-spirited way.  Nic jokes that Jules would prefer to "send out good vibes" as opposed to a thank you card. (One guess as to which parent came up with the name Laser).
Not surprisingly, Joni and Laser have their own set of problems, mostly related to adolescence.  Joni is a brilliant girl who graduated high school at the top of her class but it's unclear whether her accomplishments are a manifestation of the pressure Nic puts on her or a result of her own ambition.  Laser, 15, is also lost and seems to have a bit more trouble carving out his own identity while in the shadow of his sister and under the influence of his misguided friend, Clay, who pressured him into snort drugs in the opening scene. Needless to say, something is missing for both Joni and Laser.
Without the permission of their parents, Laser convinces Joni to seek out their biological father, Paul played by Mark Ruffalo, who anonymously donated sperm. Paul it turns out is the epitome of cool. He's handsome, he owns a hip organic restaurant, he rides a motorcycle and of course, he has lots of ladies. Upon meeting Paul, Joni and Laser seem to find a significant piece of their family that they didn't know was missing. Likewise, Paul, the eternal bachelor, finds something more meaningful to him than anything else in his life – a family.
The budget of "The Kids Are All Right" pales in comparison to this summer's blockbusters but its story and Cholodenko's execution outdoes its gargantuan competition. This movie is meaningful without being sappy and it's complicated but relatable without being pretentious. This movie perfectly captures the modernity and the uniqueness of our generation's families while still remaining relatable.  Sure not every family has a "donor dad" but aspects of what makes up every family is present in this story from Joni becoming her own person and staking out her own agenda as she begins college, to Jules not feeling appreciated and loved by her partner.
It's well acted, well cast and the cherry on top is Bening's performance.   She adds levity and wit to take what would be a nauseating discussion of feelings between a couple to a level where the audience can laugh and yet still appreciate each partner's perspective.  Seeing this movie just for Bening's performance is worth the price of admission, so add to that the performances of Ruffalo, Moore and Wasikowska, the ingenious reimagining of a story about a family and you have an anti-summer blockbuster, worthy competition for any big budget thrill ride.