The Kardashians Celebrate The Grand Opening Of 'Kardashian Khaos' Boutique In Las Vegas (Pics)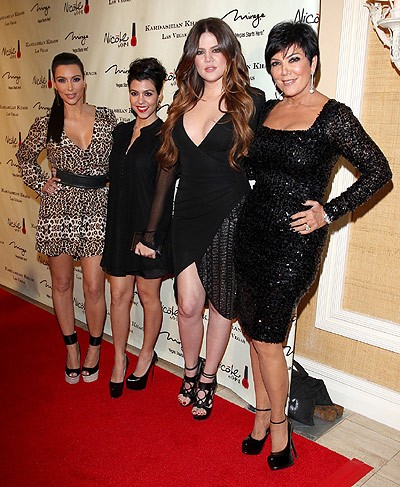 The whole Kardashian Klan was in attendance for the grand opening celebration of the flagship Kardashian Khaos store at the Mirage Hotel & Casino in Las Vegas, Nevada Thursday night.

Kim, Kourtney & Khloe Kardashian and their mother Kris Jenner were joined by the rest of the famous socialite family - Kylie & Kendall Jenner, Rob Kardashian and Kourtney's boyfriend Scott Disick - for the big event, where a whole slew of fans were waiting to catch a glimpse of the stars Barbara Walters recently grilled for not having any talent.

While the family was in attendance Thursday night, Kardashian Khaos actually opened its doors on November 1st. The boutique offers a variety of exclusive items such as novelty gambling chips, scented candles and t-shirts; and "all the products that the Kardashian girls and Kris Jenner own, represent, market and endorse."

"It's hard to think of a brand that embodies fun, energy and excitement better than the Kardashian brand," President and COO of The Mirage Felix Rappaport said in an official release. "The Kardashian women have developed an unmatched international following and we're thrilled that The Mirage will be home to their first Las Vegas store, Kardashian Khaos. We look forward to a wonderful relationship with Kris, Kourtney, Kim and Khloe, and to welcoming their fans from around the world."

"We're thrilled to have the opportunity to share some of our favorite products and even one-of-a-kind items with our fans, and happy that Felix and his team have welcomed us to The Mirage. Given that Las Vegas is the number one destination for countless travelers from around the world, having such a big presence there is a dream come true and very special to all of us. We look forward to seeing everyone on our visits to the store," the Kardashians said in a joint statement.