The Jonas Brothers Get Horny For Booty-Shaking Cheerleaders In New Video, 'Pom Poms'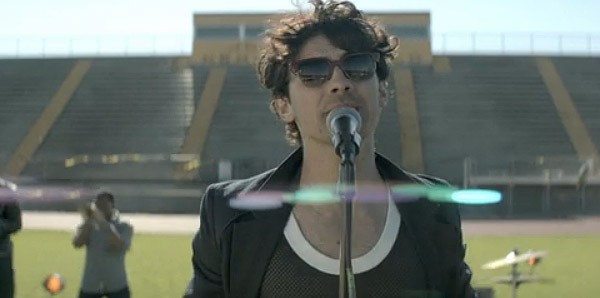 The Jonas Brothers are back! The sibling trio just released the video for their first single in three years, "Pom Poms," which features several scantily-clad cheerleaders shaking their booties, fireworks and even a horn section.
The new single is the result of a new approach the group has taken to their songwriting, along with new influences.

"We've taken on a completely different approach to songwriting. We're doing it all ourselves. I'm producing it, we're writing it and we're performing it," Nick Jonas tells MTV.com. "It really is all about what's happening with the three of us in the studio. We're in a season now, as artists, of really taking control of our destiny and deciding what our next moves are. It something we're really, really proud of.

"But it's also one of those things we tread carefully, but we have great fans to support us."

Speaking of treading carefully, fan reaction has been mixed, with several fans upset over the Jo Bros' use of numerous scantily clad women shaking their booties in the new video.

As far as the song title goes, Nick tells MTV that it should be easy for everyone to figure out.

"It's kind of self-explanatory. It's got a lot of different meanings," he says. "I've got my own personal meaning for it."

The guys also announced that they'll be hitting the road in 2013 (dates at their official site).
Judge for yourself: check out the catchy "Pom Poms" below...