'The Jerk' Starring Steve Martin Celebrates Its 30th Anniversary

Directed by
Carl Reiner
, and released on December 14, 1979 "
The Jerk
" tells the "rags to riches…to rags" story of Navin R. Johnson, an imbecilic, white boy, raised by a family of poor, black sharecroppers, who decides to take his Candide-like optimism and head to the big city to find his place in the world. The film kicks off with a homeless Navin, who says, "I am not a bum. I'm a jerk. I once had wealth, power, and the love of a beautiful woman. Now, I only have two things: my friends and my thermos." Navin then goes on to recount the particulars of his personal story. He begins with the avowal, "It was never easy for me; I was a poor, black child." An obvious incongruity, this line sets the tone for the rest of the film as a comedy where absurdity is commonplace and no holds are barred.
Throughout Navin's odyssey, he holds several odd jobs, such as gas station attendant, carnival weight-guesser, and miniature train engineer. He also makes many interesting friends along the way, including Patty Bernstein, a rough n' tough motorcycle rider, who helps Navin discover what his "special purpose" is for; Marie Kimble, Navin's Kewpie doll-faced love interest; and Lifesaver, Navin's devoted dog a.k.a. Shithead. For Navin, pleasure comes from the little things. One of the highlights of his life is the detection that his name had been included in the latest edition of the phone book, "Page 73: Johnson, Navin R.! I'm somebody now! Millions of people look at this everyday!" Then, Navin really becomes somebody and strikes it rich when he haphazardly invents "Opti-Grab," a contraption that prevents eyeglasses from slipping down the nose. Unfortunately, however, Navin's triumph is only short-lived. Soon thereafter, his Cinderella success story suffers a regrettable re-pumkinification.
Steve Martin
is hilarious in his turn as Navin, and this performance is a clear-cut example of why this snow-haired goofball was once known as the king of comic cinema. The film is packed with delightful sight-gags and quotable one-liners, and it provides a perfect platform for Martin to showcase that which he does best, turning imbecility into an art form. Bernadette Peters, Caitlin Adams, Jackie Mason, and M. Emmet Walsh are also great in supporting roles, but it is, without a doubt, Mr. Martin who steals the show.
Since "The Jerk," which Martin co-wrote along with Carl Gottlieb, Martin has acted in three more comedies directed by Carl Reiner: "
Dead Men Don't Wear Plaid
" (1982);
The Man with Two Brains
" (1983); and "
All of Me
" (1984), which is probably his most critically acclaimed performance to date. In 1987, Martin starred with John Candy in "
Planes, Trains, and Automobiles
," and later that same year, he appeared in the adaptation of "Cyrano de Bergerac" called "
Roxanne
," which he also co-wrote. Martin's collaborative writing efforts for this film earned him a Writer's Guild of America Award, along with the acknowledgment from Hollywood that his comedic aptitude is just as effective on the page as it is in the screen. Following "Roxanne," Martin starred in "
Parenthood
" (1989), "
My Blue Heaven
" (1990), and "
Father of the Bride
" (1991). His most recent body of work includes, "
Baby Mama
" (2008), "
The Pink Panther 2
" (2009), and "
It's Complicated
" (2009).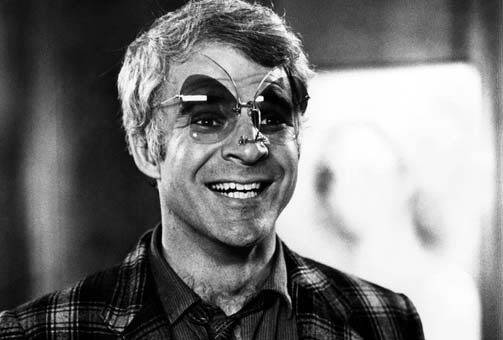 While Steve Martin has compiled an impressive body of work over the years, it is his proto-character Navin R. Johnson who is the most likely to stand the test of time as his most memorable performance. Thirty years after its release, "The Jerk" is still just as hilarious and un-PC as ever, but there is a sweetness factor to "The Jerk," achieved through Martin's portrayal of Navin, which makes this film more of an artistic accomplishment than the gross-out, foul-mouthed comedies of today.
Story by
Michaela Zanello
Starpulse contributing writer