The Jaegers Are Back: Guillermo Del Toro Working On 'Pacific Rim' Sequel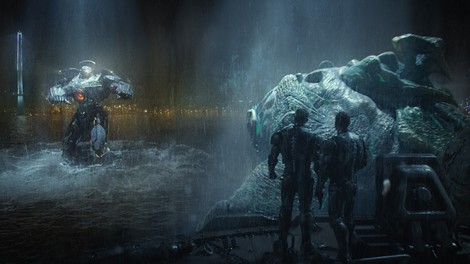 Guillermo Del Toro has revealed he wants to return to the Pacific Rim series – and a script is already in the works!
During an interview with Buzzfeed to promote his FX show The Strain at the ATX Television Festival in Austin, Del Toro confirmed that work was underway on the sequel to the monster-fighting-robots flick. "I'm working very, very hard with Zak Penn. We've been working for a few months now in secret. We found a way to twist it around. Travis Beacham was involved in the storyline and now I'm writing with Zak because Travis has become a TV mogul."
You may have heard of Penn before; his name pops up for several comic book movies, including story credits for The Avengers and X-Men 2. He worked on the screenplay for X-Men: The Last Stand and The Incredible Hulk. Beacham worked on the screenplay for Pacific Rim, but he's currently working on FOX series Hieroglyph, which he created and produced.
Despite the work by Del Toro and Penn, the director was clear that no production deal has been set. "I don't have the money, but I'm proceeding like it is happening," he said. Still, Del Toro revealed the film will be a sequel and will involve the characters Raleigh and Mako (Charlie Hunnam and Rinko Kikuchi, respectively).
"I'm going for very new, very crazy ideas on the second one, which are very different from the first one — but you will get really great spectacle," Del Toro added.
So what would a Pacific Rim sequel involve? It would definitely have to be bigger and badder than the first film, especially in terms of monsters. Don't expect something as simple as an "Atlantic Rim," as the first film was huge in China and Japan thanks to the film's depictions of those countries - it made over $100 million in China.
Since Del Toro used the words "crazy ideas," we're going to predict the next film will have space elements. With the kaiju's portal in the water destroyed, their next step could be sending monsters to Earth via asteroids, and new Jaegers are created to blast into space to intercept them. Sounds good to us.