'The Iron Lady' And Four Other Memorable Meryl Streep Portrayals Of Real People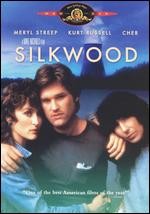 Silkwood (as Karen Silkwood) 1983:  Nominated for an Academy Award, a Golden Globe and a BAFTA (but winning none) for her performance as the doomed titular character, Streep played union activist and chemical technician Karen Silkwood in one of her more understated roles.  Drastically changing her look with a short, dark haircut and adding a soft accent to reflect Silkwood's Texas roots, Streep immerses herself in the role of a blue-collar worker who can barely make ends meet. Nothing over the top, just a quite, tragic performance of a woman who continued to fight even when she was in over her head.  
Iconic movie moment: Streep, as Silkwood, getting what has come to be known as a "Silkwood Shower".