'The Invasion' – Get Infected!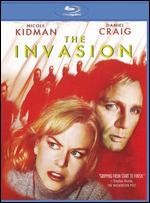 Want to know what you might look like if your body was invaded by a mysterious alien infection like the characters in the film
The Invasion
? Check out
the official site
for
The Invasion
DVD release and get infected! Just upload your picture and watch yourself transform.
The mysterious crash of the space shuttle leads to the terrifying discovery that there is something alien within the wreckage. Those who come in contact with it are changing in ominous and inexplicable ways. Soon Washington, DC psychiatrist Carol Bennell (
Nicole Kidman
) and her friend, Dr. Ben Driscoll (
Daniel Craig
), learn the shocking truth about the growing extraterrestrial epidemic: it attacks its victims while they sleep, leaving them physically unchanged but strangely unfeeling and inhuman. As the infection spreads, more and more people are altered and it becomes impossible to know who can be trusted. Now Carol's only hope is to stay awake long enough to find her young son, who may hold the key to stopping the devastating invasion.
DVD Bonus Features Include:
- We've Been Snatched Before: Invasion in Media History Documentary
- Featurette: The Invasion: A New Story - How do you make an old story new
- Featurette: The Invasion: On the Set - We reveal the challenges and advantages to shooting in Washington DC
- Featurette: The Invasion: Snatched - How do you invade without ships, planes or bombs?
-
Enter to win a copy of "Invasion" on DVD!