The 'Into The Woods' Trailer Is Full Of Fairy Tales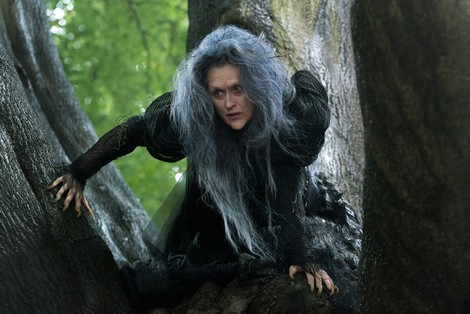 Into The Woods could very well be the Avengers of fairy tales.
Cinderella, Little Red Riding Hood, Jack (and the beanstalk), Rapunzel, The Big Bad Wolf, and others appear in this tale about a baker and his wife seeking a way to break a curse to remain childless placed upon them by a witch.
If that cast of characters has you excited, wait until you hear who is playing them: Meryl Streep will play the witch who curses James Corden (the baker) and Emily Blunt (the baker's wife). Anna Kendrick stars as Cinderella and Chris Pine will be her prince. Mackenzie Mauzy plays Rapunzel and Billy Magnussen will be her prince. Johnny Depp, who you only see for a moment in the trailer, will be stalking Lilla Crawford (Little Red Riding Hood) as The Big Bad Wolf. Rob Marshall (Chicago) directed the film.
Despite the trailer featuring no singing, the film is actually based on the Broadway musical of the same name. It will also arrive on a barebones budget of $40 million. The Hollywood Reporter says Johnny Depp traded a $20 million salary for $1 million if he could film for only a week.
Disney is set to release the film in Christmas Day this year, a Thursday.