'The Incredible Burt Wonderstone' Unfortunately Isn't All That Incredible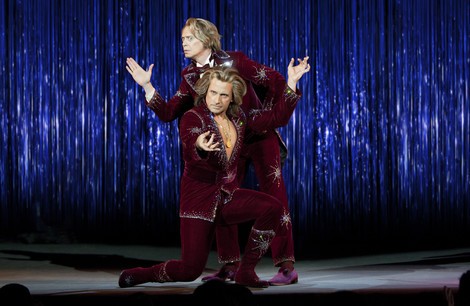 I love magic. When I watch a good magician, I feel the wonderment of a five year old. Too bad I didn't feel that way while watching 'The Incredible Burt Wonderstone', directed by Don Scardino and written by Jonathan Goldstein and John Francis Daley ('Horrible Bosses').
Unfortunately, the story is one you've seen many times before. Superstar is an egomaniac. He treats everyone like dirt. Then overnight, he loses everything... His best friend/partner, his money, his career and hits rock bottom.  It's here that he develops humility and learns what's really important in life.
The superstar in this movie is Burt Wonderstone (Steve Carell) magician/performer extraordinaire.  His magic partner is his childhood BBF, Anton Marvelton (Steve Buscemi).  
The pair have been headliners at Bally's Las Vegas for the last ten years. But the casino owner, Doug Munny (James Gandolfini) thinks their act has grown stale and wants them to come up with something new.
That's not their only problem.  There's a new magician in town and he's getting a great deal of attention.  His name is Steve Gray aka The Brain Rapist (Jim Carrey).  Gray has a successful cable show and his in your face, gritty, violent, physical feats appeals to the younger crowd.
Jim Carrey by the way is the best thing in the film.
When Wonderstone and Marvelton try prove they still have what it takes to be Number 1, by doing a stunt called 'The Hot Box'  that's the beginning of the end for Burt.
First, Marvelton, tired of being abused by Wonderstone, leaves the act.  Burt tries to make it on his own, but fails miserably.
Then not only does Wonderstone get fired, but discovers that's he's broke. Burt has hit the bottom folks and now, has no choice, but to claw his way back up.  
Lucky for Burt, he has Alan Arkin on his side.  Arkin plays Rance Holloway, a quintessential 1960's magician, who's the reason Wonderstone fell in love with magic as a young boy. 
Oh, and I mustn't forget the girl....There's always a girl and in this movie, her name is Jane (Olivia Wilde) and she's Wonderstone's assistant/love interest/ aspiring magician.
To be fair, I did laugh, but not enough for me to say this is a 'must-see' comedy (although the ending is very clever and good for one or two big chuckles).
As for Steve Carell, I found his performance too much of a caricature - I did enjoy Buscemi and Alan Arkin as well as Jay Mohr as Rick the Implausible.
I gave 'The Incredible Burt Wonderstone', which opens Friday March 15, 2012,  2 1/2 bagels out of 5.  Check out our video for John's magic trick and his bagel rating.
Please SUBSCRIBE to our channel on YouTube and LIKE us on our Two Jews on Film Facebook page.  Thanks everyone...and let us know what you think.