'The Hunger Games' Is Set To Become The Next Big Movie Phenomenon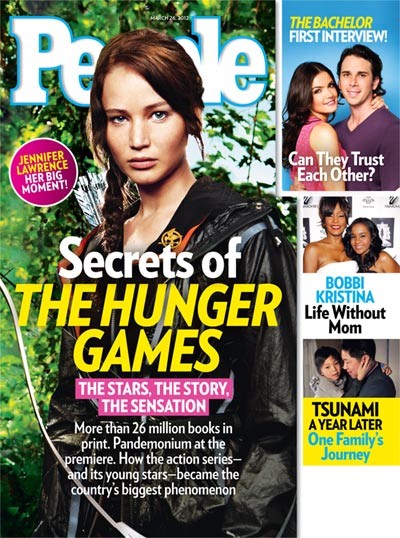 With more than 26 million books in print followed by pandemonium at the film premiere of The Hunger Games, fans everywhere are obsessed with the tale of a brave girl in a bleak future world. This week's issue of PEOPLE talks to the young soon-to-be superstars of the action series that sparked a worldwide phenomenon – Jennifer Lawrence, Josh Hutcherson, and Liam Hemsworth, as they brace for Twilight-level fame. "I did indies and I was in X-Men, but that was a franchise that I just joined at the end," says 21-year-old Lawrence, who plays teenage heroine Katniss Everdeen. "This is like 'N Sync," she says of the ear-splitting fan passion she experienced during a mall tour to promote The Hunger Games. "This is crazy."

And it's only just begun. What started out as a young-adult trilogy by author Suzanne Collins is now poised to catch fire in a big way. Although fan reaction to the trio's casting was initially mixed (some fans complained that Lawrence was too old, Hutcherson too short, and Hemsworth too blond) each star nailed their respective auditions. Director Gary Ross (Seabiscuit) says Hemsworth, 22, "came in with this brash, cocky quality that I saw in Gale and read in a perfect American accent. When he left, he said, 'Thanks, mate,' and I was like, 'Holy cow, this guy is from Australia!'"
See pictures from the Los Angeles premiere of The Hunger Games
Like the Twilight series, The Hunger Games features a love triangle between the three sexy young stars. Unlike in Twilight, however, the romance takes a back-seat to themes of loyalty, oppression, and the sinister undertones of today's reality-TV culture. "There's no schoolgirl crush happening here," says costar Elizabeth Banks, who plays government official Effie Trinket. "The stakes are too high for that. This isn't about a first kiss. This is life and death."

Lawrence, who shares her character's disarming bluntness, is already feeling the pressure of meeting her fans' expectations. "I'm now a role model for young girls, so my language has had to change a lot," she says of curbing her cursing habit. Her intense training regimen included hot yoga, freestyle running and shooting 100 arrows a day with an Olympic archery medalist. "Often in the film, you see Jennifer 80 feet up in a tree – obviously on a safety harness," says Ross. "But how did she get in the tree? She climbed the freaking tree!" Hutcherson, 19, who plays her Games competitor Peeta, packed on 15 lbs. of muscle through strenuous exercise and eating "five giant meals a day" of chicken breasts and broccoli. "By the last meal, you're like, 'I can't even look at this chicken, but I have to eat it,'" he recalls. "But it worked."
See pictures from the European premiere of The Hunger Games

Having twice played an impoverished young survivor – in 2010's Winter's Bone and again in the Games, Lawrence says, "If I get a script, I'm like, 'Does this character like the woods?' Get it out of here. I just wrote an e-mail, 'No more white trash with too much responsibility.'"

Ross is confident that his stars are prepared for the pressures of anchoring a megafranchise. "With Josh and Jen and Liam, I think they're more interested in acting than they are in being famous," he tells PEOPLE. "I think all of the [mania] is a weird distraction to them. I think they're going to take care of their talent and work hard and turn into actors with a lot of depth and breadth." Regarding the fan mania, "I don't think about getting swarmed at Comic-Con, I think about getting killed at Comic-Con," says Lawrence. "I'm terrified of Comic-Con."


*Also In This Week's 'People'*
-Bobbi Kristina's New Boyfriend – "He Has Been There For Krissi Through A Lot Of Things"
-John Mayer Cancels 21 Concert Dates: Granuloma Has Returned After Surgery
-The Bachelor's Ben and Courtney: "Marriage Isn't Something We've Even Discussed"
-Life After Jonbenet: "I Do Not Like Child Pageants," Says John Ramsey In New Memoir
-Derek Hough On Caribbean Vacation: "It Was Pure Terror"


Check out all these stories and more in the new issue of People Magazine - on newsstands everywhere now!