The Hottest Stars Hit The Hottest Gifting Lounge For The Independent Spirit Awards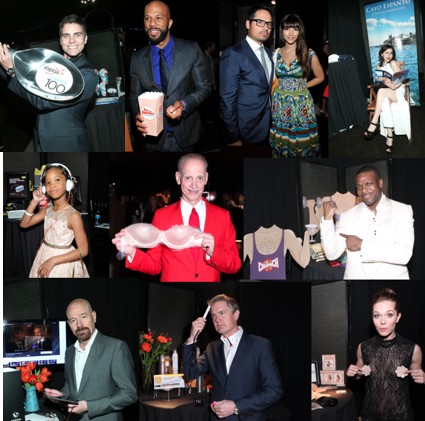 While everyone was buzzing around Hollywood preparing for the Oscars on Sunday, a fun and edgy Independent Spirit Awards was happening down by the Santa Monica beaches on a beautiful sunny Saturday. Starpulse had the opportunity to hit The Official Presenter Gift Lounge backstage to do a bit of celeb spotting.
I walked in at the same time as 9-year-old Quvenzhané Wallis who has been the hit of the awards show circuit this season with her performance in Beasts of the Southern Wild. She was pretty in pink and she seemed to enjoy Mattel Games' movie-guessing game, Pass the Popcorn. I imagine Quvenzhané will be a movie trivia question before long since she's the youngest Best Actress nominee for the Academy Awards ever.
Also enjoying the gift suite was Kyle MacLachlan who kindly talked to every press member in the room and granted them an interview. He's been keeping busy with roles on Portlandia, How I Met Your Mother, and The Good Wife this year. However, it was his fascination with the GKhair On-the-go Mini-Iron that has us in a fit of giggles. He's got a great head of hair though! 
Argo and Breaking Bad star Bryan Cranston made an appearance while we were hanging out in the lounge. He enjoyed the technology of the Sookbox which allows users to "enjoy media and applications on whatever device they choose" and it's all controlled from your handheld device like your iPad. Perhaps Cranston could use a little technology to fight off the radioactive monster in his 2014 movie, Godzilla?
The final star to sweep through while we were there was former NYPD Blue star Sharon Lawrence who looked lovely in dressy white jacket. She spent a lot of time with Ann Deal at Fashion Forms which a must for any red carpet appearance. The company offers the perfect undergarment accessories so your unmentionables are not the next day's headlines.
Other stars who walked through and checked out the latest products in the gifting lounge included Silver Linings Playbook star Chris Tucker, Django Unchained beauty Kerry Washington, and The Avengers action star Jeremy Renner. All three of them enjoyed a relaxing day in the seaside lounge before they hit the red carpet at the Oscars on Sunday.