The Hottest Gift Lounge at the Emmy Awards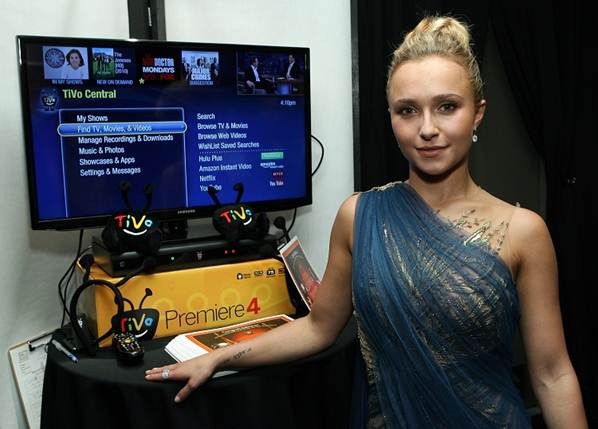 I knew it wasn't going to be an ordinary day when I raced past Aziz Ansari sipping a coconut water on the escalator.  He was dressed like a Target employee with a red polo and khakis, but he self-parked even though free valet parking was available to the celerbrity presenters.  I was whisked past him and escorted downstairs underneath the Emmys stage at the Nokia Theatre to the official presenters lounge. 
The Emergen-C Gift Lounge Backstage at The Nokia Theatre in Celebration of the 64th Primetime Emmy® Award occurred on Saturday and Sunday giving presenters an opportunity to check out the latest trends in fashion, electronics, and beauty.  While the room was pretty tiny for a gifting suite, it was jam-packed with great finds for the celebrities to discover and take home.  
CND was offering the latest in Shellac nails with fall colors that won't be available until November. While I was partaking in my "Midnight Swim" manicure, NBC's Go On star, Matthew Perry, strolled through the room to much fanfare.  All of the cameramen jumped up to greet him, grab a photo, and an interview.  He didn't stay long, but he stopped several of the vendors to take a look at what they were offering.  
One of my favorite stops along the way was Aquaswiss. They were offering gorgeous watches from their fall line including the perfect lilac timepiece for the girl who has everything.  If that didn't suit the celebs, then perhaps a new pair of trail sneakers called the Minimus 1010 would work for their running and hiking regime through the Hollywood Hills.  The brightly colored shoe is a part of the barefoot line from New Balance with only a 4mm sole. It's thin, it's lightweight, and it's right on trend.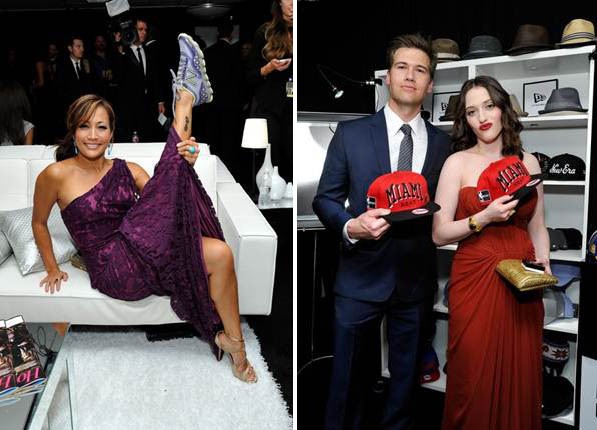 Other highlights from the lounge include the gorgeous Jill Reno Collection of fashion and couture jewelry. She's based out of Houston, Texas, but her designs look straight off the Milan runway--elegant, refined, and feminine. The men were happy to see New Era representing their popular line of ball caps for the NFL and MLB, but the company has also launched a new line of fedoras to expand upon their trendy head gear.
Finally, for the gadgets geek, the celebrities took a look at Tivo's new Premiere 4 DVR which can record up to 4 shows at once and store 75 hours of HD shows.  If the stars want to clean up their house a bit, or have their housekeeper do it, they can try Black & Decker's Platinum line with the Flex Vac which has a Lithium Ion battery they can hold a charge up to 18 months and weighs only 3.7 lbs. or they could opt for the Platinum Hand Vac which is close to a pound lighter and has a pivoting head. 
Many of the celebs stopped by during the show after they presented their category from favorite classic TV stars like Happy Days actor, Ron Howard, to this season's newest star, Hayden Panettiere from ABC's upcoming show, Nashville. No matter what TV generation these celebrities were from, no one went home empty-handed.   
If you were able to go to the gifting lounge, which item would be your favorite?