'The Hobbit' Holds Off 'Frozen' To Top Box Office, '47 Ronin' Tumbles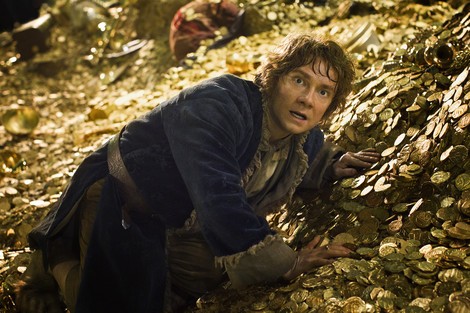 The Hobbit: The Desolation of Smaug held off a resurgent Frozen to keep its top spot at this weekend's box office, and The Wolf of Wall Street was the only new film to crack the top 5.
According to Box Office Mojo's estimates, The Hobbit made $29.8 million over the weekend, inching above Frozen's $28.8 million. Frozen made $11 million more than it did last week in a rare box office bounce-back.
The Wolf of Wall Street opened at number 5 with $18.5 million, although it made an impressive $9 million on Christmas Day. Other new releases include The Secret Life of Walter Mitty, which made $13 million; 47 Ronin, which made $9.8 million; and Grudge Match, which made 47.3 million.
47 Ronin's paltry 9th place debut appears to be the final chapter in a troubled film. Originally slated for a 2012 release, expensive reshoots and Keanu Reeves' directorial duties for Man of Tai Chi delayed the film an entire year.
Director Carl Rinsch was given a $170 million for his Hollywood debut; it is reported that figure ballooned over $200 million due to the reshoots. Reports also claim Rinsch was booted from editing duties and Universal had an in-house team take over to give Reeves a larger role and a love interest. The Hollywood Reporter says Universal will probably take a $175 million loss on the film.