The Hilarious 'MXC: Most Extreme Elimination Challenge' Season 2 Hits DVD April 17

-
Spike TV's Acclaimed Original Comedic Series Makes Its Second Season Appearance On DVD April 17 From Magnolia Home Entertainment
All of the crazy competitions, colorful contestants and comedic dubbing return for the second time with
MXC: Most Extreme Elimination Challenge
- Season Two, arriving on a 2-disc DVD set April 17 from Magnolia Home Entertainment. Achieving cult status and a favorite among young men and college students across the country, one of the most popular original shows on Spike TV,
MXC
uses footage taken from the 1980s Japanese television classic "Takeshi's Castle" produced by Tokyo Broadcasting System Inc., which featured noted Japanese movie and television star Takeshi Kitano (
Zatoichi: The Blind Swordsman, Battle Royale
).
MXC
has been re-written, re-edited and dubbed in English to create a hilarious combination of
Mystery Science Theater 3000
,
Fear Factor
, and
What's Up Tiger Lily
with a sprinkling of the X Games.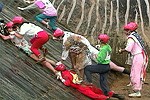 Executive Producers/Creators Paul Abeyta, Peter Kaikko and Larry Strawther, along with voice talent Victor Wilson, Chris Darga, John Cervenka and Mary Scheer, repurposed the show to resemble an American extreme sports show at its worst excesses. Although the actual audio may be 'lost in translation,' this not-quite-reality sports program is most loved for its sardonic voiceovers and wacky challenges such as 'Rotating Surfboard of Death,' 'Sinkers and Floaters,' 'Dope on a Rope,' 'Saddle Sores' and 'Dash to Death.' Providing hilarious commentary and dead-on parody of extreme sports and reality TV, hosts Vic Romano (Wilson) and Kenny Blankenship (Darga) are joined by sideline reporter Guy LeDouche and field marshal Captain Tenneal (both voiced by Cervenka) who contribute hysterical post-competition interviews.
The two-disc collection features all 12 episodes of the second season, a Behind-the-Scenes of
MXC
, an Original Episode of "Takeshi's Castle" and Kenny Blankenship's Top 25 Most Painful Eliminations of the Season.