"The Heart Is Deceitful Above All Things" Stars Asia Argento and Marilyn Manson; Comes To DVD 6/6/06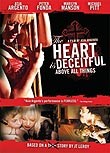 Amid allegations of
Warhol
ian-style literary hoaxes and identity scandals involving "JT LeRoy,"
The Heart Is Deceitful Above All Things
, adapted from "JT's" second novel, comes to DVD June 6, 2006.
Seven-year-old Jeremiah (Jimmy Bennett) lived a calm, comfortable life in the care of a loving foster home until the day his birth mother Sarah (Asia Argento) suddenly showed up to reclaim him. Torn from the life he knew, Jeremiah is drawn into his mother's reckless world of turmoil and depravity, and into a desperate struggle to survive the madness of his surroundings.
JT LeRoy was elevated into national celebrity partly due to the overwhelming power of his heart rending childhood experiences. Following the recent accusations by New York Magazine and The New York Times, which revealed the lengths one woman was willing to go to in order to gain entrance to the literary and celebrity world, "The Heart Is Deceitful Above All Things" reveals with colorful and uncompromising filmmaking, the back-story of one character who rocked the world of literature, fashion, music and film . . . without ever existing. This is the unfathomable story of "JT LeRoy."
"However you choose to view the whole affair – cruel, obvious, protracted, selfish – even those who are the angriest will admit that, yes, the whole thing was ingenious. It was an incredible show, and most of the credit goes to a punk-rock mom in San Francisco who wrote porn and did phone sex for a living." - Salon.com
Written and directed by
Asia Argento
(
Scarlet Diva
, XXX,
Land of the Dead
), and shot by Eric Alan Edwards (
Kids
,
My Own Private Idaho
), "The Heart Is Deceitful Above All Things" boasts a stunning cast that includes Academy Award nominee
Peter Fonda
,
Jeremy Renner
(
North Country
),
Michael Pitt
(
Hedwig and the Angry Inch
,
Last Days
),
Marilyn Manson
,
John Robinson
(
Elephant
,
Lords of Dogtown
),
Ben Foster
(
X Men 3
,
Alpha Dog
), and
Jimmy Bennett
(
Poseidon
,
Polar Express
,
Daddy Day Care
) and
Cole
and
Dylan Sprouse
as Jeremiah. Featuring music by
Hasil Adkins
,
Sonic Youth
, and
Subhumans
.
The DVD will be released with an exclusive limited edition photography book "Exposing a Hoax: Exclusives, Rarities and Fabrications", featuring pictures by legendary rock 'n roll photographer Mick Rock. The photography will be presented in a high quality, 24-page book inserted inside the DVD jacket and will contain key excerpts from the many newspaper and magazine features on the hoax along with some personal quotes from the filmmakers and, of course, from Mick Rock.
"The Heart Is Deceitful Above All Things" is presented in Dolby Digital 5.1 Surround Sound. Special DVD features include director, Asia Argento and producer, Chris Hanley commentary; Theatrical Premiere featurette; JT LeRoy featurette "JT Undercover" (exclusive and candid video footage of the JT LeRoy camp in action at parties, book readings and interviews); Easter eggs; original US theatrical trailer; links and trailers/previews of Palm Pictures upcoming releases.