The Hard Lessons Are The Next Best Thing To Come Out Of Detroit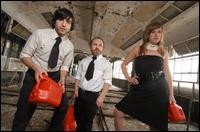 Somewhere between the rawness of the
White Stripes
, the power of the
Foo Fighters
, and the hip factor of
Death From Above 1979
, is Detroit's most promising new act,
The Hard Lessons
. Fronted by Detroit's modern incarnation of
Ike and Tina
, the band's tracks come on like an unexpected face-slap. With a sweaty live show rendering crowds and critics across the country "vanquished and sated," and a critically acclaimed debut album,
Gasoline
, The Hard Lessons are poised to take over the world. Dangerously exciting and addictively fun (get out a pad and paper), this is rock n roll music!
The Hard Lessons don't suck in a way that can make the most jaded-f--- cynic care about something new again. Their instantly memorable ditties keep self-conscious scenesters singing and dancing well past last call. Their recently self-released EP,
Wise Up!
, is a testament to this. Ah, but this is just the beginning.
Critics consistently hail the band's live performances as the best in town, no matter what city they play. The December 2006 issue of Spin Magazine hailed them as a band "Led by the latest Detroit couple" and that they "come on with a roaring, sultry swagger." The band has toured (or otherwise shared the stage) with bands such as the
Plain White T's
,
My Chemical Romance
,
Hot Hot Heat
, and
The Killers
.
Visit
The Hard Lessons' Starpulse Page
for a gallery of photos, biography, recent and archived news, and much more!