'The Hangover Part III' Trailer Promises More Hilarious Antics From The Wolfpack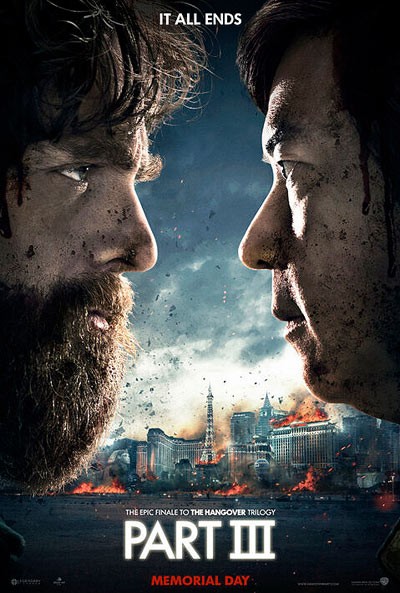 The latest trailer for The Hangover Part III is finally out, and the new promo reveals a lot more of the movie's plot than the first teaser that was released early last month.

This time around, the "Wolfpack" -- Alan (Zach Galifianakis), Phil (Bradley Cooper) and Stu (Ed Helms) -- returns to where it all started -- Las Vegas.

This time around a crime boss (John Goodman) tracks down the Wolfpack and takes Doug (Justin Bartha) hostage until the guys can deliver Chow (Ken Jeong), who stole $21 million from the kingpin.

Heather Graham (Jade) and Mike Epps (Black Doug) reprise their roles from the first film, and funnygirl Melissa McCarthy joins the cast.

The film bills itself as "The Epic Finale To The Hangover Trilogy," and the new poster (above) bears quite a resemblance to the final installment of another huge movie franchise (see below).

The Hangover Part III hits theaters on May 24. Check out the newest trailer and last month's teaser below...