'The Hangover Part II' Copyright Lawsuit Dropped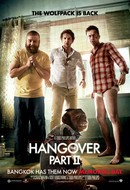 A California man has withdrawn his lawsuit against the studio bosses behind The Hangover Part II - just two months after alleging the hit comedy was based on his own experiences.

Michael Alan Rubin turned the events of his hellish honeymoon in Asia into a script entitled Mickey and Kirin, and he took action against the project's officials in October for reportedly infringing on his copyright by basing The Hangover sequel on his work.

But now Rubin has voluntarily dismissed the suit, according to The Hollywood Reporter.

As WENN went to press, it was not yet known if the two parties had reached a private settlement.

This marks the latest legal triumph for The Hangover Part II bosses - Ed Helms' acting double, Scott McLean, also recently dropped his lawsuit against studio executives after claiming he suffered significant brain trauma on set during a stunt gone wrong.

Bradley Cooper and Zach Galifianakis also star in the hit franchise.