The Hamster Who Ruled The World: A Conversation With 'Top Gear's' Richard Hammond
When I get word that Richard Hammond wants to speak with me, I'm stunned. I'm to be on the phone with one of Britain's most loved TV personalities, one of my idols...and I've just seen film of him crushing a Porsche with a tank.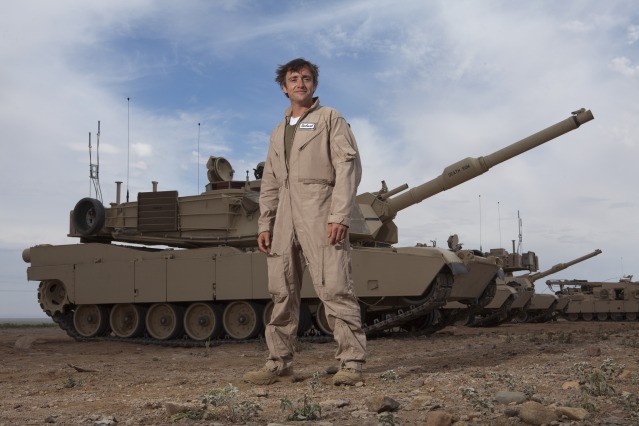 Calling Hammond just a TV presenter would be like calling Cal Ripken Jr. just a ballplayer. He has hosted enough television programs that he should probably have his own channel. He's best known for a decade of co-hosting Top Gear, but has also been seen on shows like Brainiac, Total Wipeout, and multiple series that bear his name, including Richard Hammond's Five O'Clock Show, Richard Hammond's Engineering Connections, and Richard Hammond's Blast Lab.
His latest brings him to America: it's Richard Hammond's Crash Course, a BBC America original that sees Richard given only three days to master the country's toughest vehicles, including an Abrams tank and logging equipment.
What makes Richard (affectionately known by fans as "Hamster") so remarkable, however, isn't just the fact that he's been on camera more than any of us could ever hope to be while talking about more subjects than any of us care to grasp. It's that he's truly an inspiring person. As I wrote in a column last year, he's done so many amazing things over the course of his career - but perhaps his greatest accomplishment is the human being that he is.
He's a devoted husband and father, well regarded by colleagues and fans, involved in charitable causes. He survived a horrific dragster crash that put him in a coma - and out of that, wrote a book that helped me through my near-death experience. With all that he's done, and how well he has done it, it's easy to see why he's so beloved.
For me, anyway. When we connect, Richard brushes the idea of his celebrity aside with endearing humility. "I try not to think about it too much," he tells me. "I must be very, very lucky, clearly. I get to do amazing stuff. I have a lovely life here in my little house, but I also get to drive all around the world. I'd like to say it's difficult and unpleasant, but it's not. It's amazing. Being famous is a byproduct of an amazing job. [What] people sometimes don't realize is you're not in it for that."