'The Great Gatsby,' 'Elementary' Season 1 & More Available On DVD, Blu-ray, Or VOD Aug. 27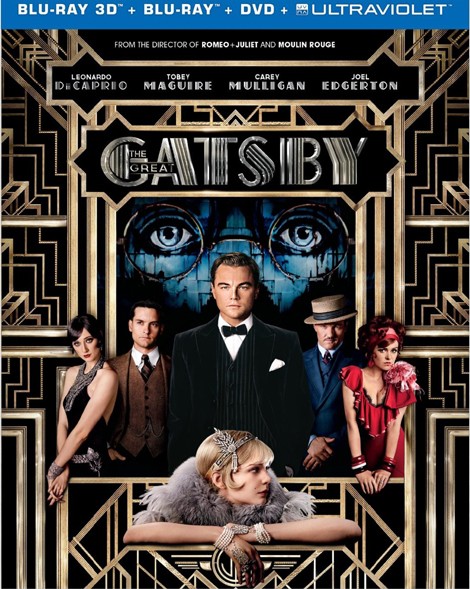 Elegant costumes, colorful and flashy scenary, and contemporary music are infused in "The Great Gatsby," based on the iconic book by F. Scott Fitzgerald.
The film centers on would-be writer Nick Carraway (Tobey Maguire), who leaves his midwestern roots behind and travels to New York City in the spring of 1922, an era of loosening morals, glittering jazz, bootleg kings and sky-rocketing stocks.
Chasing his own American Dream, Nick lands next door to a mysterious, party-giving millionaire, Jay Gatsby (Leonardo DiCaprio) and across the bay from his cousin Daisy Buchanan (Carey Mulligan) and her philandering, blue-blooded husband, Tom (Joel Edgerton).
Nick is drawn into the captivating world of the super-rich and their illusions, loves and deceits through his newfound friends.
Horror thriller "Among Friends"

Good times take a dark turn when longtime friends get together for an '80s-themed murder mystery party that is soon hijacked by someone from their past. The dinner guests will have to face their lies and secret betrayals as they discover the terrifying lengths to which their host will go to expose the truth. Veteran scream queen Danielle Harris (the Halloween franchise) makes her directorial debut with the horror thriller Among Friends.

Disaster movie "Seattle Superstorm"

A suspicious object is shot down over the waters of the Pacific Northwest, causing strong turbulence and ominous clouds that turn violently into a massive storm.  As the heavy rains and hurricane-force winds wreak havoc in the city of Seattle, Major Emma Peterson (Ona Grauer) is handed the task of identifying the threat and securing the city, while trying to keep her own kids safe. As the weather turns even more deadly, she and her fiancé, scientist Tom Reynolds (Esai Morales), must work together to rescue her children and put a stop to the super storm that is threatening to annihilate the entire planet!

Sci-fi action adventure "Stranded"

When the isolated U.S. military moonbase is bombarded by a rogue meteor storm, Colonel Gerard Brauchman (Christian Slater) and his small crew are cut off from Earth with their life support failing.  Before long, the crew discovers the meteors harbored alien spores…and they're replicating. Now a vicious, shape-shifting predatory life form is loose inside the crippled facility, picking off victims one by one. Locked in a desperate fight for survival, Brauchman and the terrified remaining astronauts have one final mission…keep the creature from escaping the moon and finding a new food supply on Earth.

Documentary "Scatter My Ashes at Bergdorf's"

It's the most mythic of all American emporiums and the scene of many an ultimate fashion fantasy. Now audiences get a rarified chance to peek behind the backroom doors and into the reality of the fascinating inner workings and fabulous untold stories from Bergdorf Goodman's iconic history. The legend, the parties, the fashion idols, the windows, the women, the buyers and shoppers - and most of all, the quintessentially American dreams of New York's high-fashion hot-spot - all come to life in an ode to a realm where creativity and commerce reign equally supreme. Featuring: Giorgio Armani, Candice Bergen, Manolo Blahnik, Dolce & Gabbana, Marc Jacobs, Naeem Khan, Michael Kors, Karl Lagerfeld, Lauren Bush Lauren, Susan Lucci, Christian Louboutin, Catherine Malandrino, Gilles Mendel, Isaac Mizrahi, Ashley Olsen, Mary-Kate Olsen, Thakoon Panichgul, Joan Rivers, Jason Wu and more, and narrated by William Fichtner.

Romantic drama "Online"

John Wilde is a happily married man who is about to face the biggest challenge of his life. Late one night, John logs into a social networking site and re-connects with his old high school flame, Adrianna. What begins as a harmless "Hello" rapidly escalates into a rekindling of their past romance. Torn between the life he once envisioned with Adrianna and the life he's now building with his wife, Mary, John soon discovers that there are serious consequences to the decisions he has made. Now John must try to find his way back to God and get on a path to forgiveness from Mary, God and himself. On DVD and Digital Download on August 27. 

Hallmark's "Meddling Mom"

Carmen Vega is notorious for meddling in her grown daughters' lives. Her new project is mapping out a master plan to find the perfect husband for her eldest daughter Ally. The career-minded Ally is more interested in her job as an architect until she falls for Ben McInnes, the new project manager at work. Although Carmen quickly takes a liking to Ben, she continues to pry into Ally and Ben's new relationship to ensure they ride off into the sunset together! Hallmark Movie Channel's most watched original movie premiere in network history, "Meddling Mom," stars Sonia Braga, Tony Plana, Mercedes Renard and Ana Ayora.

Drama "The Sweeter Side Of Life"

Desiree Harper's (Kathryn Morris) perfect life as the wife of a high-powered Manhattan doctor comes to a sudden end when her husband says he wants a divorce. To make matters worse, he invokes their ironclad pre-nup, leaving her penniless. Desiree soon finds herself abandoned by her rich friends and moves back to New Jersey to help her father run his struggling bakery. Though Desiree wants nothing more than to return to her high-class life, spending time with her father causes her to see things differently. She rediscovers her love of baking and puts her business degree to work in order to save her father's shop. Desiree soon discovers that there is much more to life than she believed and true love can be even sweeter in a little old town.
Thriller "A Company Man"
Hyeong-do s a professional killer working for a company specializing in contract murders. Fronted as an ordinary metal trading company, killing is nothing more than daily business dealings here. Hyeong-do is one of the firm's best killers and a loyal employee. One day, he is assigned on a job with a newbie, Hun, who is supposed to be killed afterwards. Before meeting his fate, Hun asks Hyeong-do to pass the money he saved up for his family. After much hesitation, Hyeong-do visits Hun s house and meets Hun's mother, Mi-yeon who turns out to be a one-hit wonder singer Hyeong-do used to adore as a teenager. After meeting her, he starts dreaming about a normal life. In the meanwhile, the company discovers that Hyeong-do didn t kill Hun as ordered. Hyeong-do, who now hopes to start a new life with Mi-yeon, finds himself being hunted down by his colleagues.
Also on DVD, Blu-ray and/or VOD:

Pain & Gain
The Many Adventures of Winnie The Pooh on Blu-ray
Elementary: The First Season
Grey's Anatomy: The Complete Ninth Season
Sons of Anarchy: Season Five
The Walking Dead: The Complete Third Season
Ghost Hunters International: The Final Season