The Gown, The Flowers & The A-List Guests: All The Details On Reese Witherspoon's Wedding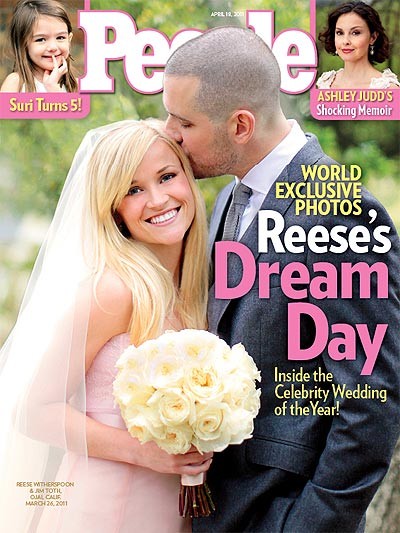 Reese Witherspoon's elegant country-style wedding to Hollywood agent Jim Toth is featured in this week's issue of PEOPLE, along with exclusive photos from her perfect day including details about her gown, flowers, A-list guests, and more.

"There was a real family feel," a guest tells PEOPLE about the big day. As guests eagerly waited for Witherspoon, 35, to make her grand entrance in the garden of her Ojai, California ranch, all eyes were on two little scene-stealers: the bride's 11-year-old daughter Ava (the maid of honor) and 7-year-old son Deacon (the ringbearer). Along with two of Witherspoon's young nieces as flower girls, Ava and Deacon were the only members of the wedding party (there were no bridesmaids or groomsmen). Says a guest: "They were super excited to be a part of their mom's day." Says another guest, "The kids were included in everything. It was very sweet."

Then, as a bluegrass band switched from "Tennessee Waltz" - a nod to the bride's Nashville roots - to the traditional Wagner bridal march, a beaming Witherspoon, on the arm of her father, John, made her way down the aisle and joined Toth, 40, under a rose-covered arch. Underneath their feet was a bed of fresh-cut lavender, whose scent filled the air. A little bit of country, a little bit of Hollywood glamour and every bit romantic, Witherspoon's elegant but relaxed wedding was the family affair of the Oscar-winning mom's dreams. Wearing her custom-made Monique Lhuillier blush-hued gown with a Chantilly lace corset bodice and full tulle A-line skit, Witherspoon "wowed," says a guest. "She took your breath away."

The gown was adorned with a double-face silk satin ribbon with cascading silk flowers to match Ava's dress (also Lhuillier). Witherspoon wore her signature blonde locks simply straight under her dramatic cathedral-length veil as she exchanged rings with Toth. The couple, says another guest, "didn't seem nervous at all, only excited." The crowed cheered as Toth and Witherspoon, who won her Academy Award portraying June Carter Cash in 2005's Walk the Line, walked out to a tune made famous by the Carter Family: "Keep on the Sunny side of Life."

After the ceremony, their approximately 120 guests - including A-list friends such as Matthew McConaughey (a CAA client of Toth's) Gwyneth Paltrow and husband Chris Martin, and Scarlett Johansson (also a Toth client) and new beau Sean Penn - moved on to a country-chic celebration which was "down to earth and beautiful - not flashy, just in exquisite taste," a guest tells PEOPLE. "It has a romantic and warm feeling," says another guest. Witherspoon's 7-acre Libbey Ranch, built in the 1920s, provided both the backdrop and inspiration for the special night, with its "timeless California architecture, rustic materials and beautiful garden," says a pal.

The bride and groom personally chose the night's farm-inspired menu from renowned LA Mediterranean restaurant Lucques. The dessert included a four-tiered white buttercream wedding cake with a lemon filling and a chocolate's groom's cake - plus a s'mores station to keep things playful. Guests left with favors that were burlap sacks filled with Ojai honey and warm pecan-currant scones.

As the day turned to night, the newlyweds - who served a late-night snack of pizza and grilled cheese sandwiches around 11pm, never stopped beaming. "Reese and Jim danced for hours," says a guest. Adds another: "It was such a relaxing, beautiful, soulful night. It was their kind of day."


*ALSO IN THIS WEEK'S 'PEOPLE'*

Ashley Judd: "Healing The World Begins With Healing The Self"
Happy Stylish Birthday: Suri's Fab Five
Courteney Cox "Is Not Dating Anybody," Says A Friend
Russell Brand: "I Wouldn't Do Anything To Compromise My Knighthood"



Click for more great Reese Witherspoon pictures: