'The Good Wife' Season Finale Review: 'A Weird Year'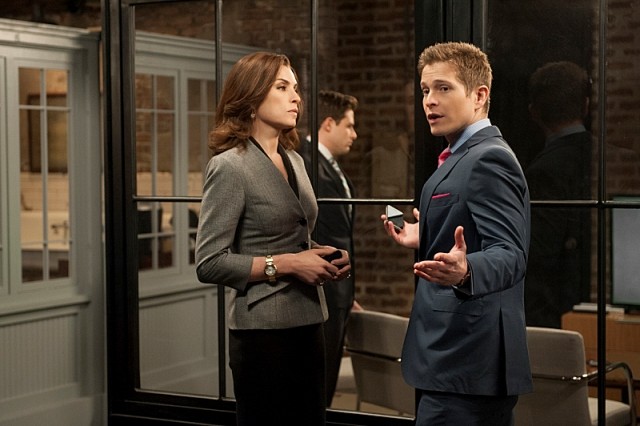 Could there be a more apt title for the season finale of The Good Wife? This cycle has seen one firm split into two (each with their own contentious problems), the death of one of the show's most beloved characters, a political scandal, and the apparent demise of the Florrick marriage. A weird year, indeed.
Legally, things are crazy as both firms find themselves in the line of fire regarding the failed adoption story that was last touched upon in 'The Last Week'. This gives us the excuse to see more of Christian Borle as uptight attorney Carter Schmidt, who's now suing both teams for six million dollars. Because when there's a season finale of a legal drama, this is when you roll out a big case, especially when you teased it earlier in the season.
The battle for control between Diane and Louis Canning comes to a head here, too, when Florrick/Agos accidentally overhears Canning and David Lee scheming thanks to a video-conferencing feed left open. Not only are they out to take down Diane, they want to destroy Alicia and by extension her firm, too, leading her to declare "That changes everything." Especially when Cary discovers that the wife they plan on using against Alicia isn't the one at the center of the adoption case - but Deena Lampard (Megan Ketch of Blue Bloods), the spouse of Chumhum boss Neil Gross, also known as Florrick/Agos's biggest client. And that's not even the worst thing that Canning does. This may be the only time in the history of TV we've ever wanted to punch Michael J. Fox in the face.
Politically, there's another Eli Gold meltdown about the State's Attorney's race, this one regarding how Finn once stepped in to help out his drug-addicted sister, and how Peter is subsequently planning to withdraw his support (which of course has nothing to do with that not really incriminating photo handed to him by Finn's opposition last week). He suggests Diane as a replacement, if he can get Diane to forgive him for screwing her over by revoking her state Supreme Court nomination earlier this season. She sees through him immediately. Finn, meanwhile, takes Eli's advice and drops out, leaving him a legal free agent.
And because no Good Wife episode is complete without a sprinkling of personal drama, Zach is graduating, which brings both Alicia and Peter's mothers (Stockard Channing and Mary Beth Peil) back into the picture. When Veronica tells Jackie about Alicia and Peter's new marital arrangement, it's gloriously awkward.
One also has to feel for Cary when he hears Diane tell his new girlfriend Kalinda to exploit his soft spot for her. Not only that, but almost immediately thereafter, Alicia comes to him and tells him that she plans to hold a vote to merge with Lockhart/Gardner no matter what he wants - which drives Cary to turn to the dark side and meet with Canning. When Canning promptly leaks his name on the video feed, Alicia and Cary's partnership implodes in spectacular fashion. Cary's come a long way from being the prototypical smug hotshot attorney, and one of the things that needs to happen in Season 6 is more character development for him, because these moments prove that there's so much more about Cary to discover and that Matt Czuchry needs more screen time.