'The Good Wife': Robert & Michelle King Share Insight At TCA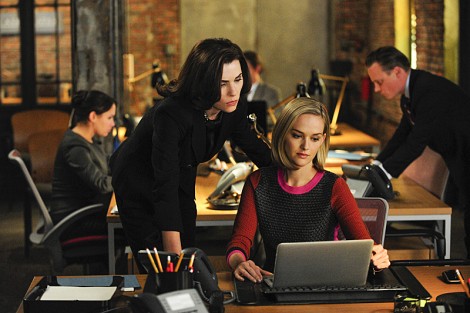 Are you going through The Good Wife withdrawal? Don't worry, we are too. Thankfully, we had a chance to hear from executive producers and co-creators Robert and Michelle King during CBS's Television Critics Association (TCA) presentation this week, and they shared insight on Season 5, from the big changes to Bruce Springsteen.
Last Sunday's episode featured three songs from The Boss's new album, High Hopes, and we found out how that arrangement came to be. You can thank the network. "CBS came to us with as they said, this fantastic opportunity, that Bruce had a new album, and they wanted to play it for us," explained Michelle King. "And if and only if we felt that the songs were appropriate to the episode, there was an opportunity to be able to use them, and, of course, we were super excited."
"We needed instrumental tracks without the vocals on it, which is terrible if you want to take Bruce's [vocals out], but we needed it, so we said 'Can you send them?,' because usually artists can send them over," continued Robert King. "Well, they didn't have them. So we heard that Bruce went back into the studio and did the instrumental track. It was like, 'Oh, would he want to compose the rest of the episodes?' So it was fantastic. It was an opportunity of a lifetime."
We also learned that Lockhart/Gardner's (okay, we're still not calling them LG no matter what Will says) expansion plans are not indicative of a Good Wife spinoff, just some character development. "It really felt [like] Will is going through a grief that he's in denial about, and there's a frantic energy to him that I think Diane is correct to analyze as being an energy that is about him having been in this limbo with Alicia for so long," explained Robert. "Now it's like he's trying to make all these multiple choices. So it's coming off of there. And, of course, that's going to hurt the firm going [forward] -- how much can he expand and is that really good for the Diane/Will relationship?"
The Kings gave us a little insight into how The Good Wife's ensemble cast is written for, too, reminding us that even when you have a roster full of tremendous actors, it's impossible to have all their characters at the forefront all the time. "I think the third year we underused Christine Baranski until the second half of the year," said Robert. "Some people get a middle part of the year.

"It's an embarrassment of riches basically," added Michelle. "We have a spectacular ensemble, and some rise at certain parts of the story and others wait until the next piece."
This year it's Archie Panjabi you'll see pick up steam in the back half of the season. "Kalinda was a little bit adrift in the first half of the year. She starts exploding in the second half of the year. The intent is, because we're shooting Episode 15 and we're writing Episode 16 right now, is that her story starts crystallizing in the second half of the year," Robert continued. " I think the difficulty with Kalinda is she can't live sometimes in some of the other stories, because the other stories are so much about the workings of a firm and she has an operatic streak to her that kind of would blow that way.
"We've been aware of where the fans' head is at [with her character], and part of us is saying 'Patience,' and the other part is saying, 'Okay, we're lighting a fire under our own ass.'"