'The Good Wife' Review: 'The Next Month'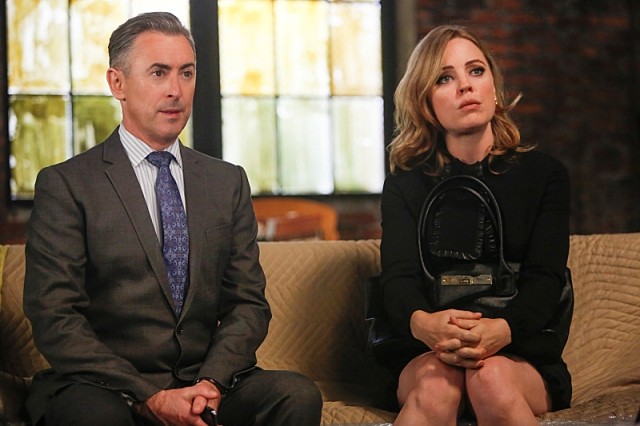 Every now and then, a show that we don't regularly recap will be so good that we just have to talk about it anyway. Tonight, The Good Wife is that show.
As previously mentioned, Josh Charles is directing this episode. He established himself as a director to watch out for with his work on Season 4's "The Art of War," and he brought it this time, too. This is an installment that's well put together; the performances are solid, there's not a wasted or overdrawn moment, and throughout the hour we're treated to some really beautiful shots. With the skill he's shown, Charles reminds us a lot of Scandal's Tony Goldwyn; both are truly talented actors whose directing is equally worth watching.
Since Charles is behind the camera, that means there's less Will Gardner tonight. While that's totally understandable, it's also a bit of a shame, because Will was absolutely on fire in last Sunday's episode, "The Next Week." There was so much going on with him - and it was so well-played - that we were reminded of why we love his character. We lose some of that momentum here, as most of Will's screen time in "The Next Month" is devoted to his new relationship, which has "rebound" written all over it. We can't say we're unhappy when David Lee tries to rain on the parade. But we'll bear it, because we also can't shake the feeling that this whole subplot is just a hint toward a bigger arc of character development for Will this season. Plus, if that's the sacrifice we have to make to enjoy more of Charles directing, then it's worth making.
Conversely, watching Eli and Natalie Flores (the always lovely to see America Ferrera) back together was cheer-worthy; we'll take more of them anytime. Alan Cumming could read the menu in that restaurant and it would be entertaining. One of the smartest moves The Good Wife ever made was promoting Cumming to series regular.
On the professional front, while Lockhart/Gardner moves forward with its expansion plan, Florrick/Agos continues its fight to stay alive. They land their first new client thanks to Natalie; she needs Alicia's help for a school friend, Tomas Ruiz, caught between deportation and a drug cartel. Alicia seemingly negotiates a very quick deal for Tomas, but after the killer he's supposed to testify against goes on the run, ICE picks up Tomas anyway. And an extra wrinkle is added when it's revealed that they've mistaken him for a con artist with the same name.
This creates two different arguments - one that Tomas's deal with the AUSA was unfairly rescinded, and the other that he was mistaken for the wrong man - with more legal hurdles than an Olympic event. Multi-pronged cases are usually where legal dramas go to die, but Ted Humphrey's script keeps everything moving, and does so in such a way that the audience is able to follow along. That last part's particularly important in a TV landscape that sometimes mistakes words per minute for plot. By the end of minute 44, every one of the episode's major story points has a resolution.
Who says that all the brilliant shows are on cable television? Because whichever way you slice "The Next Month" - directing, writing, or acting - The Good Wife shined.
Season 5 of The Good Wife continues next Sunday at 9 PM ET/PT on CBS.
(c)2013 Brittany Frederick. Appears at Starpulse with permission. All rights reserved. No reproduction permitted. Visit my official website and follow me on Twitter at @tvbrittanyf.