'The Good Wife' Review: 'Parallel Construction, Bitches'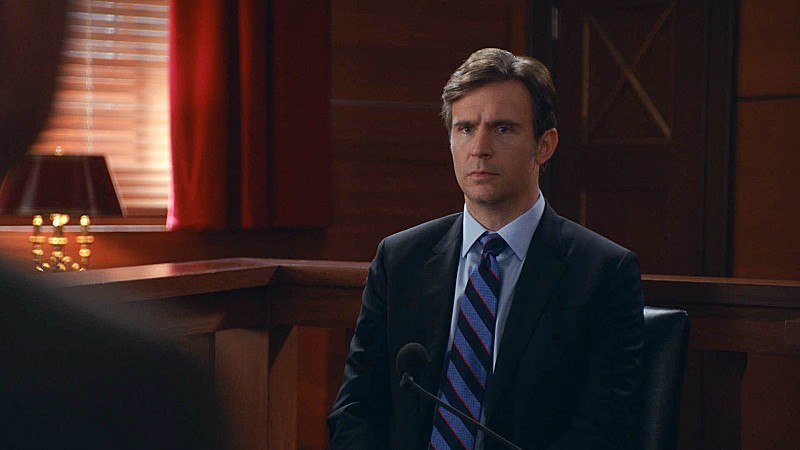 The Good Wife didn't need to do anything to get us excited about it coming back; it's already the best show on network television and one of the best on television, period. Yet it pushes itself to another level this week, with a guest appearance from elite actor Jack Davenport (Smash), the return of Mike Colter, and a title that's worthy of a spit-take. As the beginning of a "three-episode event," this is one hell of a start.
Alicia is unsettled when fellow attorney Charles Lester (Wallace Shawn) visits her at home. Lester works for Lemond Bishop (Colter), who's been arrested on suspicion of murder. His debacle brings the whole team out to play, including Will and Diane, against AUSA Frank Asher (Davenport). It's worth watching this episode alone just for Davenport's facial expressions, as Asher probably wishes he'd been assigned any other case. He seems like the kind of guy who never colored outside the lines in school, and the episode takes a huge hit when he departs the narrative.
Things get even dicier when Lester suggests to Alicia that there may be an informant in her firm. Saddled with him 'assisting' her, she finds herself having possibly upset the case's presiding judge (a returning Jeffrey Tambor) and with her voice mail being hacked by our friends in cubicles at the NSA. This last part is particularly thorny, as it later tips the NSA off to the fact that Will may be a thorn in Peter's side.
Elsewhere, Eli is still brassed off at Marilyn (Melissa George) over the voter fraud investigation that will not die. And he's definitely not going to be happy when a guy named Nelson (Eric Bogosian) pulls up beside her in a black van and wants a moment of her time. Seriously, it's like an abduction. But really, he's just compelling her help as he's the bulldog in charge of the probe. Marilyn finds herself in a hard place, with Eli pressuring her to issue a report supporting Peter, and Nelson wanting her to help condemn him. It's the first real moment in the season where you have to feel for Marilyn.
And though we all saw it coming several episodes ago, Kalinda ends up in bed with Cary, although it leads her to erroneously tell Will and Diane that Lockhart/Gardner isn't being hacked. That's likely going to come back and bite them, especially as the NSA tells Nelson about Will. Nelson then shows up in Will's office, trying to turn him into a cooperating witness by playing on his rivalry with Alicia.
Any time the word "event" is used in television, fans have all the reason in the world to be wary, because it's basically synonymous with "stunt." However - at least judged on its own individual merits - this episode is an exception to that rule, for a number of reasons. Firstly, it's playing with toys that were already in the sandbox and that we're due for an exploration of anyway (namely, the NSA).
Secondly, the episode itself stands on its own as an entertaining hour; when you cast Jack Davenport in a key supporting role, it's impossible for an installment not to be entertaining. Thirdly, the script does an outstanding job of laying the groundwork so that the audience sees and is intrigued by what's going to happen in the next two episodes. This is not a stunt, and it's not expositional filler. This is The Good Wife, and we're so glad it's back.
The Good Wife continues its fifth season next Sunday at 9 PM ET/PT on CBS.
(c)2014 Brittany Frederick. Appears at Starpulse with permission. All rights reserved. No reproduction permitted. Visit my official website and follow me on Twitter at @tvbrittanyf.