'The Good Wife' Review: 'Goliath And David'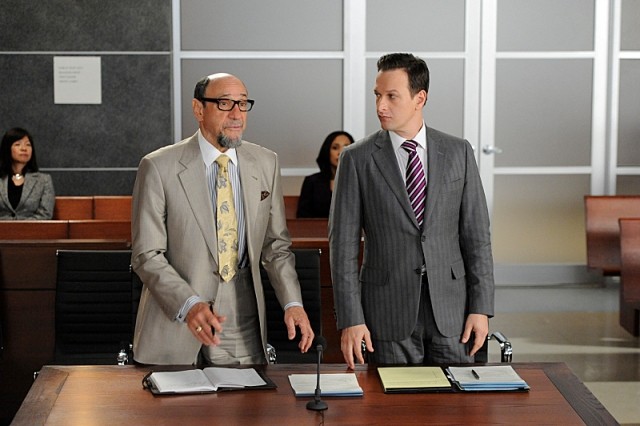 What show's so good, we cut our vacation short so that we could recap it? The Good Wife, which returns from its holiday hiatus with Alicia and Will still using cases as battlegrounds in their personal war. Seriously, this rivalry is more bitter than anything that went on during Sunday's NFL playoffs.
Picking up exactly where 'The Decision Tree' left off, while Marilyn insists that Peter isn't her baby's father but declines to name who is, Alicia chats up the band that played the Florrick/Agos holiday party and ends up representing them in their lawsuit against a Glee-esque TV show. Will sees the case as another opportunity to duel his ex, and convinces her opposition, Burl Preston (F. Murray Abraham), to work with him even though they don't get along either. Alicia advises Will to "get over it," but it's clear early on that neither of them are over anything. Blurred lines - not just a Robin Thicke song, folks.
The two of them continue their mutual campaign of trickery, whether it's Will raising consistent objections to throw Alicia off her rhythm, or Alicia changing into the outfit she wore the night that she first slept with Will to distract him with memories. "I wasn't so discriminating back then," she snipes, while he just laughs it off. There's so much fighting going on that even the respective expert witnesses are slinging insults at each other.
With Alicia and Will so lasered in on each other, it's not surprising that it's Cary and Robyn who are most responsible for the outcome of this particular case, which is wrapped up when the latter finds out that the TV show lifted audio directly from the band's version for their cut of the song. But honestly, this is really less about the legal drama, and more about the relationship drama, which never ceases to be entertaining.
Meanwhile, Kalinda's a very popular girl this week. Eli implores her to find out who Marilyn's baby daddy is for Alicia's sake, and Damian asks Will what she's doing poking around him, before asking Kalinda's psuedo-girlfriend Jenna (Jordana Spiro) to follow her. As Kalinda then distances herself from Jenna, and the father of Marilyn's baby is revealed to be director Peter Bogdanovich, Eli then has a bigger problem to deal with, as a reporter finds video that looks an awful lot like proof of Peter swiping the gubernatorial election. Let's hope that this plot doesn't turn into something like the Presidential-election saga of Scandal.
And Will and Diane are arguing, too, as Lockhart/Gardner has now opened its office in New York, and Will has his sights set on Los Angeles. She thinks he's moving too fast, while he insists that he's operating on a whole new level. "I'm fine. I'm determined," he insists. "This is not about Alicia." While the fans might be shaking their heads there, we're inclined to believe him; ever have that one bad breakup, or quit that job you hated, or have that other conflict, then wind up motivated by it? That's about you, not them, and that's what this feels like. Will Gardner is a freight train right now, and we're completely okay with that.
After the superlative midseason finale, it's not surprising that this episode doesn't quite hit the same high mark, but there's still something here to sink your teeth into. On one hand, logically you'd think there's only so long Will and Alicia can keep making things personal before they go too far. On the other, this isn't logical; this is coming from an emotional place, which is usually anything but logical. And we can't deny that it's fun when they start trading barbs. The ever-changing relationship between them is one of the core components of what makes this show great.
With Alicia now set to confront another political scandal and Will working on the expansion of Lockhart/Gardner, though, these two should move on to other battles. It'll always be entertaining to see them square off, but that can't be the crux of every episode. They're both strong characters who have so many other aspects to be explored, and a whole cast of other great characters to play off of, too. We're intrigued to see where the second half of the season takes them, both together and apart.
Speaking of supporting characters, let's give a hat tip to Jason O'Mara, who's proven to be an intriguing addition to The Good Wife's all-star lineup. When he first came aboard, we were still calling him 'the guy who took over for Gil Bellows on The Agency,' but we've come to see the appeal that Damian adds. It's one thing for him to be a wild card - that's been done - but especially with tonight's episode, the show is starting to hint at further depth to his character. Chalk that up to O'Mara being able to play him as effortlessly devious without being over the top. Damian's definitely got his own cards to play when it comes to his alliance with Will and whatever's brewing with him and Kalinda, so we've got our eye on him, too.
On its own individual merits, this is not a groundbreaking installment of network TV's best drama, but it doesn't have to be. Those don't happen every week. Instead, this is the episode that gave us about a dozen questions that we can now sit back and argue over for the next six days, and aren't those the best kind of shows?
For more on The Good Wife, you can check out how the show landed two awards on our Best of 2013 list, and why it's also one of our four Shows To Watch in 2014.
(c)2013 Brittany Frederick. Appears at Starpulse with permission. All rights reserved. No reproduction permitted. Visit my official website and follow me on Twitter at @tvbrittanyf.