The Goo Goo Dolls To Release 'Volume Two' On August 19

One of the world's most beloved American rock bands,
The Goo Goo Dolls
, will release its twelfth album, "Volume Two," August 19th, on Warner Bros. Records. It is the follow-up to last year's "Greatest Hits Volume One: The Singles" - the first-ever collection of the band's hits in its 22-year-career - which was released in November 2007.
"Volume Two," a two-disc CD + DVD set, is a treasure trove of audio and video destined to be an instant must-have for Goos fans.
The 23-track audio CD features several favorite album tracks, including "No Way Out," from "Jed," and a live take of "All Eyes on Me," from "Dizzy Up The Girl." Also included are such rarities as a demo version of their No. 1 single "Iris" and a brand new mix of "We'll Be Here," from "Let Love In." It also includes eight cover songs, including the band's renditions of
The Plimsouls
' "A Million Miles Away,"
INXS
's "Don't Change,"
Fleetwood Mac
's "I Don't Wanna Know," and live versions of
Tom Petty
's "American Girl," and
Supertramp
's "Give A Little Bit" - a track that appeared on their most recent studio album, 2006's gold-certified
Let Love In
.
The DVD features all 24 of the Goo Goo Dolls' music videos, including their three No. 1 smashes "Name," "Iris," and "Slide," as well as the Top 10 singles "Black Balloon," "Dizzy," "Broadway," "Here is Gone," "Sympathy," "Stay With You," and "Let Love In." In addition, the DVD features six live tracks from their sold-out show at Colorado's Red Rocks Amphitheatre in June 2007, including "Before It's Too Late" (from "The Transformers" soundtrack) and "Better Days," the lead-off single from "Let Love In."
The Goo Goo Dolls, which is singer/guitarist
Johnny Rzeznik
, bassist Robby Takac, and drummer Mike Malinin, have spent the last year and a half touring the world in support of "Let Love In." They performed several shows across the U.K. and Ireland in July, including an appearance at the O2 Wireless Festival in London's Hyde Park on July 6th, 2008.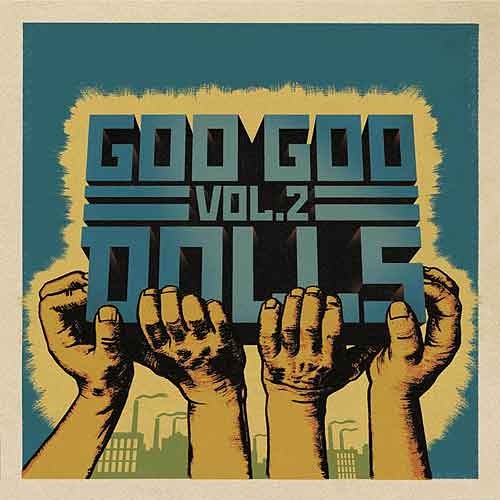 The track-listing for Goo Goo Dolls' "Volume Two" is as follows:
CD:
Hate This Place
Stop the World
Long Way Down
All Eyes On Me (live)
Lazy Eye
Iris (demo)
I'm Awake Now
Torn Apart
No Way Out
String of Lies
We'll Be Here (new mix)
Without You Here
Only One
Truth Is A Whisper
What A Scene
Covers:
A Million Miles Away
I Wanna Destroy You
Wait for the Blackout
Slave Girl
Don't Change
I Don't Wanna Know
Give A Little Bit
American Girl (live)
DVD:
Videos:
There You Are
We Are The Normal
Only One
Flat Top
Name
Naked
Long Way Down
Lazy Eye
Iris
Slide
Black Balloon
Dizzy
Broadway
Here Is Gone
Sympathy
Stay With You
Let Love In
Give A Little Bit
Live at Red Rocks Amphitheatre:
Long Way Down
Slide
Feel the Silence
Before It's Too Late
Slave Girl
Better Days
More Goo Goo Dolls:
-
Ringtones
-
Discography/Reviews
Click the pics for a Goo Goo Dolls gallery: