'The Golden Compass' Arrives In A Two-Disc DVD Edition April 29

Embark on a heroic journey to save humanity as
The Golden Compass
arrives on DVD from New Line Home Entertainment on April 29, 2008. The sweeping family fantasy follows a curious young heroine, Lyra Belacqua, and her quest to protect the coveted Golden Compass – the last of a mystical, powerful device that can unveil the truth, reveal what others wish to hide and even see the future. Lyra's courageous nature and determination to protect the device – and rescue her best friend – open the door to an adventure that will take her over sky and ocean to the wilds of the icy north, where she will gain powerful allies in fantastical creatures. Academy Award®-winner for Best Visual Effects,
The Golden Compass
features an all-star ensemble cast including Academy Award®-winner
Nicole Kidman
(
The Hours
),
Daniel Craig
(
Casino Royale
),
Sam Elliot
(
Ghost Rider
) and introduces
Dakota Blue Richards
.
The film also features the distinguished voices of Academy Award-nominee
Ian McKellen
(
The Lord of the Rings
trilogy), Academy Award-winner
Kathy Bates
(
Misery
), Academy Award-nominee
Kristin Scott Thomas
(
The English Patient
),
Freddie Highmore
(
Charlie and the Chocolate Factory
) and
Ian McShane
(TV's
Deadwood
).
In a wondrous parallel world where witches soar the skies and Ice Bears rule the frozen North, one special girl is destined to hold the fate of the universe in her hands. When Lyra Belacqua (Richards) becomes the keeper of the Golden Compass, she discovers that her world – and all those beyond – is threatened by the secret plans of Ms. Coulter (Kidman). With the help of Lord Asriel (Craig) and a group of unlikely allies ready to stand at her side, Lyra embarks on an extraordinary quest that celebrates friendship and courage against all odds.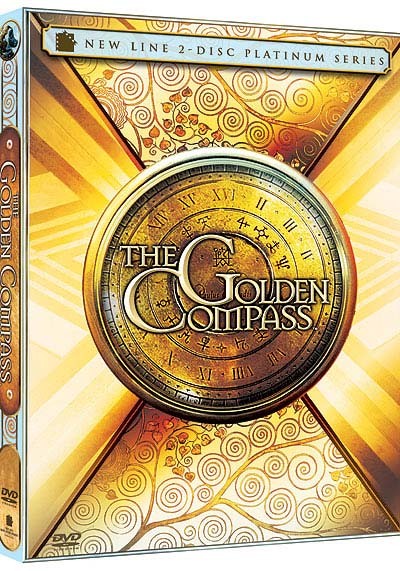 Two-Disc Edition DVD Content
(Standard/Blu-ray Disc)
- Feature-length audio commentary from writer/director Chris Weitz
- Eleven "Making-of" featurettes including "The Armoured Bears" featurette, "The Adaptation" featurette and the "Production Design" featurette
-Theatrical and teaser trailers
-16x9 widescreen (2.35:1) version of the film
-Dolby Digital 5.1 EX, DTS-ES 6.1 Discrete Audio and English 2.0 Stereo Surround
-7.1 DTS-HD Master Audio™ (Blu-ray only)
-English & Spanish subtitles
-English SDH subtitles (Blu-ray only)
-Closed captions (Standard Definition only)
-Enhanced visual commentary (Blu-ray only)
-Interactive menus (Blu-ray only)
-Galleries

Single-Disc Edition Content
-Animated menus
-16x9 widescreen (2.35:1) or 4x3 fullscreen version of the film
-English Dolby Digital 5.1 EX Surround Sound, DTS-ES 6.1 Discrete Audio and English 2.0 Stereo Surround
-English & Spanish subtitles (Feature only)
-Closed captions (Feature only)
-Special sneak peeks of upcoming New Line Cinema films
*DVD special features subject to change.
New Line Home Entertainment distributes New Line Cinema theatrical films on DVD, including the premium DVD brand infinifilm™. The Company also distributes feature films and non-theatrical programs acquired or produced by New Line Home Entertainment and New Line Television. Founded almost 40 years ago, New Line Cinema is the most successful independent film company in the world. Its mission is to produce innovative, popular and profitable entertainment in the best creative environment. In addition to the production, marketing and distribution of theatrical motion pictures, the fully-integrated studio has divisions devoted to home entertainment, television, music, theater, merchandising and an international unit. In 2005, New Line partnered with HBO to form Picturehouse, a new theatrical distribution company to release independent films. A pioneer in franchise filmmaking, New Line's Oscar-winning The Lord of the Rings trilogy is one of the most successful film franchises in history. New Line is a division of Time Warner, Inc.