The Golden Age Of Black Talent In Hollywood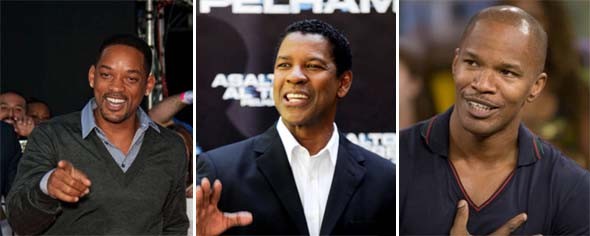 Hollywood has always had its share of big-name black talent, from Sidney Poitier to Hattie McDaniel to Louis Gossett, Jr. But looking back, none of those big names owned Hollywood like Clint Eastwood, Harrison Ford, or Audrey Hepburn did. Poitier, McDaniel, and Gossett, Jr. were immensely talented pioneers, but they were vastly outnumbered by their peers in the industry. Unfortunate as it was, they were the exception in Hollywood, not the rule.
This was probably due in part to the social fabric of America at the time. It can't have been easy for Sidney Poitier, even with his incredible talent, to carve out success in the 50's, 60's and 70's. It must have been worse for Hattie McDaniel, trying to do it in the 30's and 40's. It's hard to imagine what other black actors and actresses went through just to get bit parts and stereotypical roles.
Fast forward to 2010, and the landscape has changed dramatically (pun not intended, but it works out nicely). Not only are there a multitude of black leading-men actors, but they are the strongest leading men in Hollywood today. Jamie Foxx, Denzel Washington and Will Smith have no equals right now. Their movies come at you like they're being fired from a rifle: The Pursuit of Happyness. Dreamgirls. American Gangster. The Great Debaters. I Am Legend. The Soloist. Seven Pounds. Law Abiding Citizen. The Book of Eli. And that's just covering the last four years.

What really jumps out about this list of movies is the incredible range that they cover. Nearly every genre of film is represented, which makes it that much more impressive that they all star the same three actors. Denzel Washington goes from mob boss to inspirational debate coach to post-apocalyptic bad-ass. Jamie Foxx covers the spectrum from music industry entrepreneur to mentally-ill musician to no-nonsense district attorney. Even Will Smith, who plays similar roles about finding redemption, manages to break up the monotony with his own post-apocalyptic zombie-slaying binge.
Compare this to their closest contemporaries: George Clooney, to put it simply, is overrated. He is quickly becoming the go-to guy for middle-aged romantic comedies, which isn't good unless his childhood ambition was to become Richard Gere. Clooney essentially has two settings: smooth-talker, and smooth-talker with a bit of funny. That's it.
Then there's Leonardo DiCaprio, who has essentially the same problem, except his setting is tough guy. Tough guy cop, tough guy vigilante, tough guy government agent, it doesn't matter. If you need a tough guy, DiCaprio's your man. Though he still shows his range in movies like Revolutionary Road, these projects are becoming few and far between. He simply doesn't measure up.
The only guy that even comes close to Foxx, Washington, and Smith is Matt Damon. He can be a bad-ass (the Bourne Trilogy), a tough guy (The Departed), dramatic (Invictus), or hilarious (The Informant!). He is undeniably talented, but he is only one man, and one man does not a golden age of talent make.

The strength of this era's black actors is even more apparent when you go beyond the top-flight leading men and consider the second-tier, actors like Forrest Whitaker, Don Cheadle, and Terrence Howard. Though they are usually thought of as supporting players or character actors, they have all proved capable of carrying a movie when given the chance. Terrence Howard was given the lead role in Hustle & Flow, and he got himself an Oscar nomination. Don Cheadle took the reins in Hotel Rwanda; again, an Oscar nomination. Forrest Whitaker personified Idi Amin in The Last King of Scotland, and he won the Oscar for best actor that year.
Going further down the power rankings, there's Chris "Ludacris" Bridges, who's shown legitimate talent in movies like Crash, Hustle & Flow, and RocknRolla. Given time, and perhaps with a full concentration on acting, he could easily join the other actors on this list.
Another name worth mentioning is Tyler Perry's, though his strength is as a writer, not an actor. He's an exceptional storyteller who doesn't get the credit he deserves, probably because most people think of him only as the evil man who spawned the character Madea. While it's true that Madea is one of the most annoying things to ever be on stage or screen, all of Perry's non-Madea plotlines teem with a reality that accomplishes the most impressive thing that any work of art can do: It frightens you with how closely it approximates real life.
This is not to say that Tyler Perry's work is all depressing. On the contrary, there are always elements of redemption, sentimentality, and of course, humor. The finished product, though, feels so alive that it's unnerving. It gives you enough hope to keep on going, but it makes you want to go and change something for the better. That's a bold thing to hoist onto an audience, especially at a time of social, economic, and military uncertainty. Most moviegoers want to escape reality, not have it thrown back in their face. It's a testament to how good Tyler Perry is that he can pull this off, to the tune of $32.5 million in 2009.

Aside from the depth of actors, and one superstar writer/director, there are, of course, the actresses. Though this group is more about potential and recapturing lost glory, there is still reason to be excited. The incredible success of Precious put a couple of names on everybody's radar: Gabourey Sidibe (who really has no track record, but laid down an incredible foundation), and Mo'Nique, who showed what she can do when given a serious dramatic role. She was an absolute revelation, especially for a woman whose previous notable roles were in Soul Plane and Welcome Home, Roscoe Jenkins. She will be offered more dramatic roles in the near future. Hopefully, she takes them and ditches the mediocre comedies for good.
The other actresses that need to be mentioned here are, of course, Halle Berry and Queen Latifah. Though they've both enjoyed prestige in the past (Monster's Ball and Chicago, respectively), their career paths since those movies have been catastrophic. How low did they sink? Halle Berry did some voice work for Catwoman: The Game (because, apparently, the movie wasn't bad enough), and Queen Latifah starred in Taxi with Jimmy Fallon.
Though being a video game actress and being seen with an SNL cast member are generally signs that a career is dead, neither one of these women can be counted out completely. One is an Oscar winner, after all, and the other is an Oscar nominee. Honestly, most of their problems would be solved if they were a bit more selective about their role selection. Halle Berry may have started turning things around a few years ago with Things We Lost in the Fire, though it didn't get much press. As far as Queen Latifah goes, she could help her cause immensely by staying the hell away from Jimmy Fallon.
Hollywood today is vastly different from how it was even ten years ago. The whole power structure has shifted, led by black actors who have become the predominant leading men of this era. Black actresses are showing promise, and a black writer/director is sitting on the cusp of greatness, just waiting to break out. It's interesting that this subject is seldom breached, especially with Hollywood being as image-conscious as it is. Perhaps it's the fact that people get uncomfortable whenever distinctions are made along racial lines, but sometimes these distinctions are significant, and they have to be made. This is one of those cases, because it goes beyond the simple rising of a few actors above their peers.
The face of the industry has changed, and that's something that needs to be mentioned.
Story by Jose Flores

Starpulse contributing writer