'The Glee Project' Hits All The High Notes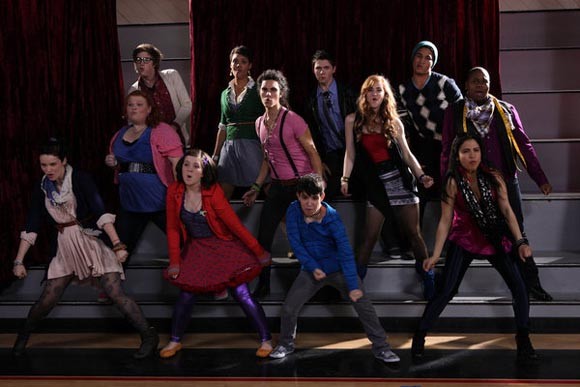 'Glee' isn't back yet but in the meanwhile, fans can indulge in "The Glee Project," a competitive casting spin-off that debuted last night on Oxygen. In a market where there's no shortage of performing arts-related reality competition shows (NBC's The Voice and America's Got Talent, Fox's So You Think You Can Dance, Bravo's Platinum Hit  are four current offerings, with American Idol recently completing another cycle, and Simon Cowell's The X Factor debuting in the fall), "The Glee Project" turns out to be an entertaining and surprisingly interesting twist on the formula. Perhaps the weakest part of the premiere installment was Oxygen's decision to air it opposite the Tony Awards, where many-a-gleek were surely watching Broadway's finest strut their stuff. So for those who missed it, here's a recap, filled with all the reasons why this is can't miss material for the off-season.
In the tradition of (most) 'Glee' episodes, each week involves a theme, which forms the basis for the song choices and character work that the contestants will bring to their group music video performances. This week is about individuality set to the tune of Stevie Wonder's "Signed, Sealed, Delivered" and Katy Perry's "Firework."
Casting director, Robert Ulrich tells us that a featured performer for the music video will be chosen based on how well they deliver their section of the Stevie Wonder classic. An odd-looking cherub named Matheus wins the honor and some QT with 'Glee' cast member, Darren Criss, who seems to have grown out his hair and traded his Hogwarts jacket in for some hipster-chic spectacles.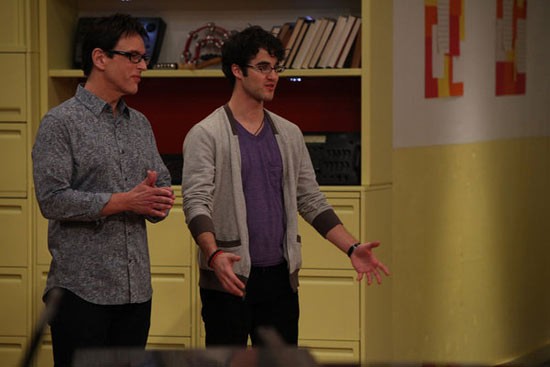 Now, here's where things get intense. Forget about any backstage jealousy drama about Matheus' special time with everyone's favorite Warbler. There's simply no time for that kind of thing as the finalists are shuffled through character workshops and choreography sessions led by the talented 'Glee' staffers themselves. Choreographer, Zach Woodlee asks everyone to select a yearbook superlative that they'd like to play and then five-six-seven-eights them to the recording session where Vocal Producer, Nikki Anders scares the crap out of them with her fast-paced, constructively critical recording session. See, in the world of 'Glee,' recording sessions are fast and furious. Sometimes Lea Michele's only got 45 minutes to nail a new song and these wannabes need to learn to keep up that pace. Therefore, most likely to be a child nominee, Ellis' whining and non-chest voice singing are a total fast track to securing her spot among the week's bottom three performers.
From there, everyone is shuffled onto the set of the music video where they perform, prance and pout like the characters they've decided to be. Bryce's ridiculous protest about a dance move not being consistent with his character during the music video shoot earns him an eye roll from the director that all but guarantees that he's bound for the bottom three.
The video itself is like a typical glee group performance, which is to say, pretty awesome! Even the weaklings look like pros and it's interesting to see whose natural charisma really pops in this context. One of the most interesting things about this series is the specificity of the prize the competitors are vying for. Some seem to be modeling themselves after characters that are already on the show. The Swimsuit Model wannabe is a clear Santana ripoff and the Lea Michele-wannabe is as sure as Rachel Berry would be that she's nailing her vocals.  Then you've got the more original characters like the dreadlocked Samuel or pint-sized Matheus. There are a few nondescript members of the pack that barely resonate while they're on camera, let alone afterwards. Yet, given the right character they might eventually pop too. Finally, you have the bottom three – two amateurs (catching Ellis yawning on-stage was a nice editing touch) and an Irishman who might not be as familiar with shoving his talent down people's throats as his American counterparts. Unfortunately, he's even less familiar with 'Jesse's Girl,' the song that he's been assigned for the last chance sing-off. 
After a few minutes of the requisite tears and 'this-is-my-dream/this-is-my-life' dramatic monologuing to coaches or cameras, the last chance sing-off begins. Damian wishes he was Jesse's Girl, a most unfortunate of lyrical flubs. Bryce sings his way through "Just the Way You Are" and Ellis breaks out the lace shirt and chunky bracelet for "Big Spender." Ryan Murphy decides who to cut and the list is posted.
Though the melodramatic reveal of  Bryce's elimination was the kind of emotional pandering that I had been so pleased to see this reality show avoid for the majority of the hour, like Ellis and Damian, I will be back next week for some more summertime song and dance.